Four Meters To Test Tank Capacitor (OL)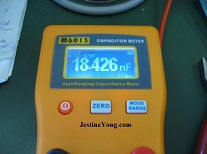 In these days it is easy to watch 4726 different satellite tv channels in ones living room. One 97 cm offset Dish and 4 LNB's to receive all FTA 13, 28.2, 19.2 satellites and one paid Dutch Canal Digital provider on Astra 23.5 channels.
And with my Dreambox DM800HDse receiver it is said that the receiver is able to add unlimited channels to its box. But although I had not found the limit yet we must question that statement.
Sadly a few days ago I suddenly noticed that my DM800HDse crashed with a beep sound before it rebooted its system. This happened that same night in total 5 times! I began to question my recently to OpenPli6.0 upgraded Dreambox receiver.
My old OpenPli4.0 too often froze after which I had to restart my receiver. So a week ago I had upgraded my old box with a Japhar SIM card which make it possible to upgrade my old box to OpenPli6.0. Which normally can't be done on an old (clone/Sunray box) because it has a clone Dreambox SIM card which inhibits the Box to upgrade to original Dreambox upgrade Firmware.
Dreambox stopped producing this Box and new Firmware/OpenPli versions for it so upgrading with the help of the Japhar Sim replacement card to a newer OpenPli6.0 version seemed a good idea. New stable OpenPli images are available daily on the Japhar site. The Forum of the Japhar guys seems a bit complex when you are searching for answers, therefore I really appreciated the outstanding help I got from WL who explained how exactly installing the Japhar SIM procedure worked.
Today I found the cause why my Box had crashed that night. After I inspected the original 12V 3A 36W power adapter I noticed that it was quite hot and had a brown spot on its silver sticker. So I replaced the adapter with another identical Dreambox power adapter.
My receiver worked again without any problem and I decided to open the bad power adapter to see what was the culprit.



On previous photos the bulged primary tank 22uF 400V e-cap clearly is visible. The power board was attached with double sided tape to the bottom of the housing. Simple and cheap.

I removed the primary e-cap to measure its ESR and Capacity value. And I didn't believe what was displayed OL. Open Line.




I used all four of my digital meters because I at first didn't believe that the e-cap was totally invisible, and had no value whatsovever.  And now only represented a completely open connection.
Still the very strange thing was that the adapter without any working tank capacitor left, still produced 12.33V DC on its output. So I repeated the adapter output test after I had removed the primary e-cap.

Any normal working DM800HDse Dreambox needs a current of about 0.98 to about 1.15A. Which this adapter obviously wasn't able to give anymore without that 22uF 400V capacitor. I ordered 12 of them today for about 1.44 Euro. They maybe aren't Nichicons which cost about 6.01 Euro for 10 of them but they will do nicely. And after replacement my old adapter will be as new again.
Conclusion: NEVER trust a working adapter that still delivers its output DC voltage. Even if the secondary Led is nicely working! It may still collapse while a current is drawn!

Albert van Bemmelen, Weert, The Netherlands.
Please give a support by clicking on the social buttons below. Your feedback on the post is welcome. Please leave it in the comments.
P.S- If you enjoyed reading this, click here to subscribe to my blog (free subscription). That way, you'll never miss a post. You can also forward this website link to your friends and colleagues-thanks!
Note: You can read his previous repair article in the below link:
https://jestineyong.com/no-power-in-hp6500-power-adapter/
Likes
(

80

)
Dislikes
(

1

)