LED Light controller repaired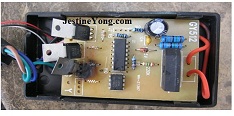 This controller did not have a model or part number on it. The customer who owns a big restaurant in town brought this to my shop for repair. It was connected to a LED lightsoutside his restaurant and when it rained he heard a big bang outside.

The way customer talked about it made me think that this device was shorted out because of the rain, what I saw on the inside of it, told me otherwise.

It was dry and there was no sign of water inside.
I think it just was shorted out because of the heavy load on it. As you can see in the picture, that is a big nasty short.

This is a close up picture of the blown thyristor. As you can see in the picture the resistor is also burnt. I was able to find out the value of this resistor by comparing the resistor next of it. It was 1k resistor. The thyristor part number is 2P4M.
I checked for more shorted parts and I could not find anything wrong except this one.  Take a look at this.

If you follow the arrow, you will see that one of the resistor legs was cut off for some reason. I do not know why it was cut off but it was clear that it did not have to do with the short in this device. Sometimes, I see this in electronic board that some of the component like resistors or even metal bridges one of their legs is cut off.
The only thing I could do is to find another LED controller like this and compare. I talked to the customer and he said that he has a working LED controller in his restaurant.
When I compared, it was not cut off. (Sorry I did not have the chance to take a picture of it). I replaced the resistor, the thyristor, and the cut off resistor and powered up the controller. I was really shocked to see it come to life because the damage was heavy and I was not expecting it to work.
The customer and I were happy to see it come to life. Mission accomplished.

This article was prepared for you by Waleed Rishmawi, one of our 'Master Authors' and currently working in the Bethlehem area of Palestine repairing electrical and electronic equipment.
Please give a support by clicking  on the social buttons below. Your feedback on the post is welcome. Please leave it in the comments.
P.S- Do you know of any your friends who would benefit from this content that you are reading now? If so, forward this website to your friends or you can invite your friends to subscribe to my newsletter for free in this Link.
Likes
(

30

)
Dislikes
(

0

)