LG LED TV Logo Stuck Repaired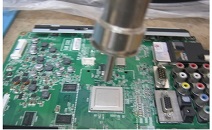 A friend of mine brought his TV for repair. The TV does come on but it gets stuck on the LG logo and it stays there for a long time. If I restart the set, the get the same thing again.

The customer also explained that he searched the fault on the net and he was advised to put the whole main board in the oven and reheat it on a certain temperature. Yes there is a way to do that but I am glad he did not because I am almost sure he would have burned the whole board down.
I get this kind of fault very often but I am glad none of the TV's (that I fixed) with the same fault came back to my shop. It has to be done right otherwise it will stop working again.

That is the main board and if you look to the black heat sink (center piece), the main chip lays beneath it.
The metal part has to be taken out first otherwise the heat sink will absorb all the heat required to reflow that chip.

My heat station was set to 450 C degrees with the flow of air about 85 but before applying any heat, I added flux to it and then I applied the heat with a rotational movement on and around that chip for almost 10 minutes.
I let the chip and board cool down for almost five minutes, cleaned the flux then connected the board back and gave it a test. Take a look

The TV came on as expected. I tested the TV for a whole day and it was working like a charm. The TV has been with the customer for almost two weeks now and so far no complains.
Mission Accomplished.

This article was prepared for you by Waleed Rishmawi, one of our 'Master Authors' and currently working in the Bethlehem area of Palestine repairing electrical and electronic equipment.
P.S- Do you know of any your friends who would benefit from this content that you are reading now? If so, forward this website to your friends or you can invite your friends to subscribe to my newsletter for free in this Link.
Note: You can check his previous article on How To Fix No Power In LG LED TV
Likes
(

75

)
Dislikes
(

0

)