Modification Of Transistor/Resistors In AC 37KW LS Inverter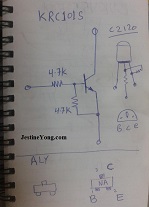 Last week a customer brought to my shop an ac inverter of 37 KW in an urgent situation (the main drive in one of  his production lines), as he described  the problem , there was no torque in the motor , it rotates but you can stop it by hand.

I made my first visual check but there was no sign of burns or defected component s, I start making Multimeter checking on the critical components such as the IGBT , Capacitors and etc but no problem seem to be there.
I start digging in the SMD components around the triggering circuit , when I came to the Q27 and with comparing to his counterparts , I notice some different reading

So I checked the datasheet of the SMD transistor (NA), it was a normal transistor but with 2 (4.7KOhm) for self biasing ,as the situation urgent and I can't wait for two weeks for the new transistor to arrive. I had to come out with a solution fast.
I made my decision to build one (it looks strange)but I made it as shown in the photos:



I used transistor 2SC2120 with 2 resistor 4.7kohm, then the inverter was installed in the machine and works fine and the important thing is my customer was so happy.

This article was prepared for you by Muftah H Shawish from Misrata Libya. He has more than 25 years experience in troubleshooting and repairing of  industrial systems, electronic control system, temperature controller, motors drives and automotive control unit. He was a BET graduate, currently work as a manager of electrical repair dept in Libyan steel company and also run his own electronics repair shop.
Please give a support by clicking on the social buttons below. Your feedback on the post is welcome. Please leave it in the comments.
P.S-  If you enjoyed reading this, click here to subscribe to my blog (free subscription). That way, you'll never miss a post. You can also forward this website link to your friends and colleagues-thanks!
Likes
(

176

)
Dislikes
(

0

)