Mystery In Satellite Receiver Repair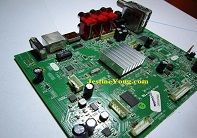 The problem with this satellite receiver was, it could not search for TV channels and the signals and quality antenna indication bars over LED display showed zero.

Actually the tuner could not sense the signals that is coming from LNB. Power supply output voltages were good and within the tolerance range. Since over display of menu on LED screen was perfect I assumed that motherboard must be intact, voltage regulators on mother board were good and voltages were in tolerances.
Meanwhile I decided to see the solder side of the motherboard

By inspection of solder side of mother board I discovered a great mystery I found (the dried water trace) in the tuner and the solder side of motherboard and seems water was stayed there for a long time.
This means that water reached the tuner as well as the bottom of mother board somehow via LNB cable during the rainy days? Or could it be the water was accidentally splashed during the daily housekeeping jobs? ….etc-see the photo below:

From now on the tuner was the main suspect to me. I had three options for repair:
First option:
Find new tuner and replace the bad one and the problem for this option was to order it from china and it will be expensive and time consuming.
Second option:
Repairing of the tuner need parts that rarely can be found in our local market.
Third option:
To salvage a good condition tuner from junk board.
Since this is the easiest option, I found one tuner from the junk board and replaced it. I can't believe that the satellite receiver worked again after the replacement.

The big question is how the water entered the receiver was still a mystery to me. The owner also has no idea about that.
Note: Fortunately and surprisingly the water did not damage the motherboard except the tuner.

This article was prepared for you by Mr Beh from Iran
Please give a support by clicking on the social buttons below. Your feedback on the post is welcome. Please leave it in the comments.
P.S-  If you enjoyed reading this, click here to subscribe to my blog (free subscription). That way, you'll never miss a post. You can also forward this website link to your friends and colleagues-thanks!
Note: You may check out his previous repair articles in the below link:
http://www.electronicsrepairfaq.com/day-night-switch-sensor-light-repair-with-hand-drawn-schematic-diagram
Likes
(

90

)
Dislikes
(

0

)