No Power In 3Com Baseline Switch 2226 Plus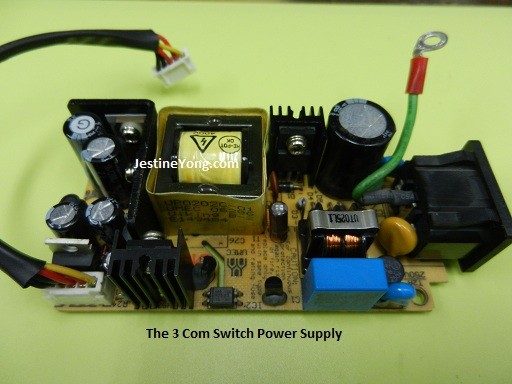 One of my customers called me to check if my company does repair service for computer network switch. I told him that we only repair no power problem because the mainboard parts are difficult to get from the market. He then told me that the problem was no power. You may click HERE to check the function of a network switch.

Once the cover was removed I could see two boards i.e. the mainboard and the switch mode power supply board. Testing the power supply output connector with power on confirmed that the power supply have problem because the voltmeter reads zero volt on the output lines. By right it should have 5 and 3.3 volt outputs.

Before the repair work start, I did scanned through the whole board to see if there are any burnt component and also to see if there is any bulged e-caps. All components seem to be intact and looks good. The first thing I did was to check on the main fuse and it checked to be good. The next step I used was voltage testing method. I placed the voltmeter across the big filter cap and I've got about 300VDC and this indicates the filter cap and bridge rectifier are good.

Next, I checked on the supply voltage of the SMD power IC UC3842 (Pin 7) and the IC had only 3 volts! A-ha this is the clue. This IC should have about 10 to 16 volt in order to function and 3 volts is just too low. There are few possibilities why the supply voltage was too low:
1) Shorted or leaky power IC
2) High ESR ohm in the small filter cap (47uf 50 volt) along the supply line
3) Start up resistor/s had turned high ohm (increase in resistance value)
4) Or shorted or leaky component/s around the power IC
Note: I did check on the transformer primary winding, optoisolator IC, secondary output diodes and also secondary filter capacitors but all were tested good.


The first component that I have checked was the small filter cap (47uf 50v) and it was tested good using my faithful Blue ESR meter. The next move was to replace the SMD power IC since I have the stock. The problem was still the same even with a new power IC. So I left only the last choice which is to check on the SMD start up resistors, SMD resistors and corresponding components (SMD diodes and SMD non polar caps). The SMD start up resistors were ok and only the SMD diodes and SMD non polar caps remain. I did not really focus on the corresponding SMD resistors because shorted caps and diodes have much more failure rate than resistors. All SMD caps were removed and checked with my analogue meter set to x 10 KOhm and they were tested good.
The last step was to check on the SMD diodes. True enough there was a SMD diode (board location D2) that has shorted under analogue meter x 10 k Ohm range.

Note: This diode was tested good under x 1 Ohm range. When you check on the SMD resistors, diodes and non polar caps, make sure you test it off board and not onboard. On board will produce misleading result thus it is not recommended.
For your information I do not have data for the below diode. Since this is a SMD diode, I used a normal signal diode 1N4148 as replacement. It turned out to be working well after burning in for few days. The supply voltage to the SMD power IC now is 10.9volt.

Conclusion: What we have learned from this repair case was that it is not necessary must have lots of bad components if you come across no power symptom in switching power supply. A shorted diode is enough to cause the power supply not to function. You need a procedure to properly troubleshoot and repair a fail switch mode power supply and also in other type of electronic circuits. Your testing electronic components skill has to be good because if you miss just one component, the rest of the troubleshooting time will be a waste.

Hope you like this repair article. Your feedback on the post is welcome. Please leave it in the comments.
Jestine Yong
Likes
(

30

)
Dislikes
(

0

)