Shorted Zener Diodes Caused No Sound In LG42LB6250 TV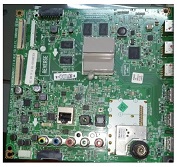 This TV was brought to me with the complaint that no sound was heard in AV-IN even at volume level 100 (maximum) and on further enquiries, the customer revealed that the sound was reducing gradually over a period of time and finally it became dead. The sound was ok in USB and when connected through HDME cable from the PC. As usual, I opened and found that the inside was very clean, even though this is a five year old TV and none seemed to have opened the set before me. I checked giving input to the AV 1 (There was only one such input in this TV) and ensured that the complaint was genuine.
This was a smart TV, which used mouse type of remote control. There were only two boards inside. One that of Power Supply and the other was the main board. Naturally, we now know that all functions such as power supply, backlight, video and audio processing were perfect. I downloaded the service manual from https://www.manualslib.com/, which I got only when searched for the datasheet of one of the IC, NTP7154. General search for a service manual for this model did not bring out any direct links for download. Moreover the name was LG42LB62Series, whereas I was trying LG42LB6250. Studied the 94 page manual, especially the 25 portions of schematic and took print out of the following.


I am not sure whether the image would be clear enough for you to view it. After playing a video through AV1, without connecting the Audio in pins, I applied a signal from my audio signal injector at C316 and C317 and got sound very loudly and clearly. After consulting a few of my technician friends, who are always ready to help, I learnt from an EX-LG technician that most likely the protection zener diodes at the input would have got shorted. He advised me to check the resistance of the input to see whether it was showing around 75 Ohms or short. When I checked, it was showing around 5 ohms indicating a short. Though the schematic shows a spring loaded connector to toggle between stereo to mono input, this TV was not having any such connector and it was a normal RC socket.
Though my lack of experience in handling such peculiar problems made me think that the RC socket could have got shorted due to some lightning, in the first stage of my trouble shooting, it opened up for a new area for investigation after getting the advice of my friends. Sure enough, I saw two components marked as VA3801 and VA3802, which are two integrated components, having two 5.6V zener diodes, kathodes of which were connected together, with a capacitor connected across (value of which was unknown). I have never seen any component like this before. As there was no reference number for these two components, I could not do any google search. (If any of the readers of this article know it, kindly share it in comments.) These two components were very tiny and located right under the RC Sockets. I used a long tipped soldering iron, and scraped these two off from the board.

After removing these, the inputs showed 75 oHms correctly. Switched on the TV again and applied an audio signal and got the sound very well. I also noticed that both the left and right channels of the audio inputs were shorted inside as mono by a peculiar design, which I never expected from a company like LG to do it! I then soldered two 5.6V zener diodes on the backside of the PCB where the two tracks go in. The kathodes were connected to the signal path as advised by my friends. Switched on and tried and the sound was perfect! Here are some pictures of the inside of the TV. As I had forgotten to click the inside while doing trouble shooting, I played the Video recorded, pressed pause at appropriate place and took screenshots!


Here is the picture, which I took after fixing the back cover. As the two tiny components were scraped away along with lead, I am unable to add picture of 'components replaced' as usual.

The customer was very happy as I delivered the set very next day and paid me liberally without ever asking for the charges!
The satisfaction jumped into the bag at rocket speed, even before I could realize it!

This article was prepared for you by Parasuraman Subramanian from India. He is 69 years old and has more than 30 years' experience in handling antique equipment like Valve Radio, Amps, Reel Tape Recorders and currently studying latest tech-classes conducted by Kerala State Electronics Technicians' Association. He has done graduation in BBA degree, private diploma in Radio Engineering and retired as MD of a USA company. Presently working as Consultant to Hospital and other institutions.
Please give a support by clicking  on the social buttons below. Your feedback on the post is welcome. Please leave it in the comments.
P.S-If you enjoyed reading this, click here to subscribe to my blog (free subscription). That way, you'll never miss a post. You can also forward this website link to your friends and colleagues-thanks!
You may check on his previous repair article below:
https://jestineyong.com/burst-capacitors-found-in-aftron-lcd-tv/
Likes
(

84

)
Dislikes
(

2

)