Sparking Tube In Singer CRT TV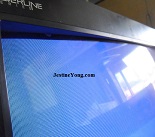 The complaint of this Singer CRT TV was no power. The customer told me that it was repaired by someone before and he can't repaired it. Sometimes in our repair field , we have to repair the set that had been touched up before by some other repairers.
If those repairers have responsibility, they will put back everything but to some they will remove (steal) some of the components and this is not a good practice. If we can't repair the set, just send it back to the customer. Ok, as usual the first thing to do is to remove the TV cover and clean all the dust. I detached some of the cables in order to remove the circuit board for checking.

The component to check is obviously is the fuse but the main fuse was not there. Perhaps it could have been removed by the previous repairer.

The next step was to check on some of the major components in the power side and all seems to be good.

Since there were no bad components, so I connected a light bulb and test it out and hope I could know the problem.

Once the power was On, I heard a sound and it was actually came from the blue spark inside the picture tube-see the photo below:

I left no choice other than to call my customer to check if he wants to replace a second hand picture tube. I was surprised that he wanted to repair it.  I had to remove the tube in order to replace with another tube.

I found the replacement tube and once everything was connected I had to adjust the convergence so that the color patches will be gone and the colors lines will be aligned. It took me some times to do the adjustment and finally it was done.



This article was prepared for you by Suranga Bandara who owns an Electronics shop in Anuradapura, Sri Lanka.
Please give a support by clicking on the social buttons below. Your feedback on the post is welcome. Please leave it in the comments.
P.S-  If you enjoyed reading this, click here to subscribe to my blog (free subscription). That way, you'll never miss a post. You can also forward this website link to your friends and colleagues-thanks!
Note: You may check out his previous repair article in the below link:
https://www.jestineyong.com/no-power-in-water-filter-machine-repaired/
Likes
(

119

)
Dislikes
(

1

)