42″ LG LED TV Repaired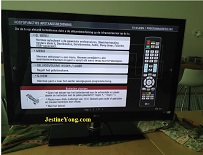 Just 2 weeks ago my friend Chafik who owns his own Business in my Hometown (a Repair & ICT Shop) phoned me if I could help him with fixing a big LG 42 inch TV. The LG model 42SL9500-ZB was made in 2010 and had modern LED Backlight but wouldn't go on.
And when I looked at the Boards I found a broken Fuse Fast 8A smd with subscription F101 on the LED Backlight Board.

This board (previous photo) was mounted in the middle on the back of the TV and covered by a metal plate. Under this Board, that was mounted with 6 screws on 6 higher positions pressed in the back plate, there were 3 cooler pads sticked on its bottom to help removing any generated heat onto the bottom metal plate.
After I had replaced the Fuse, I tested the LG with a protective 75 Watt Light Bulb in series with the Power input wires.
And the TV almost worked because I could see the Startup sequence when the Light Bulb went on and off fast in a kind of certain code after the standby button was pressed. But the TV didn't come up. So we imagined that the Lightbulb took to much power away and we tried the TV again but now without the Lightbulb.
Now the LG worked again, so I went home thinking it was fixed.
But later my friend phoned me that the fuse on the backlight board must have gone bad again because the TV had worked but afterwards the Backlight was off again.
So he took the Backlight Board of the Backplate and brought it to me to have it inspected again. And as he suspected the F101 F8A Fuse indeed was broken again.
Because the TV only refused working when the Backlight Board was attached, the cause of the problem had to be on this Board only.
I took my digital Meter and measured on Diode test the Semiconductors on this Board. There simply had to be a bad component or a short current that caused the Fuse to blow again. There were 3 almost identical PWM controlled Power sources on Board that all had special 100V 40A N-Channel Mosfets.
They all measured okay except one Mosfet Q403 that had a low resistance between Source and Drain of about 34 Ohm. And as we know a Mosfet normally always has 2 conditions in which it can be set. Active (ON – About 0 Ohm between Source and Drain) or OFF (Open switch between Source and Drain, meaning a high resistance of about 1500 Ohm or more).
After I removed this Bad Q403 N-Channel Mosfet a type 40N10-25 the Backlight Board was tested again. And the Fuse F101 was replaced. And Yes Indeed, the TV worked again without blowing up the Fuse and without protective mode from the TV Power Supply itself. But of course the Backlight intensity was weaker nevertheless it worked again. Next Photo shows the now replaced new Mosfet. The Backlight Board number was KLS-420ELD Rev. 0.6.0.


Above photo the Power Board that is mounted on the left in this LG TV. Next photo shows the TV board itself with input selector and all its Input that is mounted on the right.



And previous photo finally presents this LG in working glory again!
So if you ever fix anything, keep in mind that a Fuse nomally never goes broken without a good reason! In this case the unthrustworthy Special Super Mosfet 40A 100V!!. See following Datasheet:

Until another time another repair.

Albert van Bemmelen, Weert, The Netherlands.
Please give a support by clicking on the social buttons below. Your feedback on the post is welcome. Please leave it in the comments.
P.S- If you enjoyed reading this, click here to subscribe to my blog (free subscription). That way, you'll never miss a post. You can also forward this website link to your friends and colleagues-thanks!
Note: You can also read his previous repair article below:
https://www.jestineyong.com/tektronix-2440-oscilloscope-repaired-part-4/
Likes
(

192

)
Dislikes
(

2

)