A Bike Battery Charger Comes On But Does Not Charge Repaired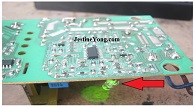 A kid next door brought his bike battery charger for repair. He said he took it to another technician but for some reason it was not fixed.

According to specs on this charger, it should give out 42 volts and the LED light should be green and when plugged into the battery, the light should switch to red which is an indication of a charging process.

When I powered up the charger a green light came on and tested 42 volts as it is supposed to do but…

The light stayed green even it was plugged into the battery.
From experience, this is caused by three suspects; either capacitors or the variable resistor on that board.

I first headed to checking the two capacitors on board; they were not bulged but I could see the plastic cover on these capacitors shrinking which is an indication of overheating. I took them off board and checked the ESR on them; they were faulty and needed replacement.
I did not bother to check the variable resistor but in case the charger did not work then I will check it out and see what is going on.

Sad to say that the customer took the battery because he was doing something on that bike so I was left with a light bulb and a multi meter to check the charger out.
I used the light bulb as a load on the output of the charger and I checked the voltage if it was steady or not. The light bulb came on and the voltage reading was steady which an indication of the working charger is.
The customer came to pick up his battery and we tested it out in the shop. The light did change to red but I totally forgot to take a photo of it. Anyway, he was happy that all is well with his charger.
Mission Accomplished

This article was prepared for you by Waleed Rishmawi, one of our 'Master Authors' and currently working in the Bethlehem area of Palestine repairing electrical and electronic equipment.
P.S- Do you know of any your friends who would benefit from this content that you are reading now? If so, forward this website to your friends or you can invite your friends to subscribe to my newsletter for free in this Link.
Note: You can check his previous repair articles in the link below:
https://jestineyong.com/ps4-controller-charging-port-replacement/
Likes
(

72

)
Dislikes
(

0

)