A Blue Tooth Speaker With A Broken USB Port Repaired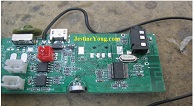 It is the second time around this blue tooth speaker showed up in my shop for repair but this time it was for a broken USB port and not the charging port.

If you look closely you would see the broken USB port and it was time to take it apart and replace it with a new one.


Few screws off and I was able to see the inside of the device and as you can see in the photo,
there is nothing much to it but it is still a repair job to do so let us get started.

I also have spotted some cold soldering joints that need some love tender care so I got to it right away and then headed to the replacing of the broken USB port.

I used the Hot Air station to de solder the part out and as you can see in the photo,
the broken and the replacement USB ports compared.

I cleaned the area, added fresh solder to the pins and that way, the replacement USB port is ready to be soldered on board.

It is a big USB port and it was easy to soldered back on board.
I put everything back together and here was the final result of the repair.

Mission Accomplished.

This article was prepared for you by Waleed Rishmawi, one of our 'Master Authors' and currently working in the Bethlehem area of Palestine repairing electrical and electronic equipment.
P.S- Do you know of any your friends who would benefit from this content that you are reading now? If so, forward this website to your friends or you can invite your friends to subscribe to my newsletter for free in this Link.
Note: You can check his previous article on A Broken Fan Replacement On A Tiny Welding Machine. Model: Hugong
Likes
(

50

)
Dislikes
(

0

)