A Dead Hair Trimmer Brought Back to Life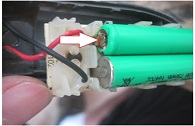 A retired teacher and a family member brought this hair trimmer for repair. As he walked into the shop and handed the device over to me, I felt some water coming out of it and I when I asked the customer about it, he answered and said that he washed the blades under running water about one week ago and since then, the device was no longer working.

When I checked the user manual for this device, it stated that it was a water proof device and it is ok to wash the blades under running water but when I opened the device I saw something the opposite of what the specification say.
Take a look

As I took the screws off, I was able to go inside the machine and see what was going on there and when I did that, I saw this mess.

The battery connection was the first sign of corrosion and I was expecting the worse.

That is the motor inside the device and as you can see, it is rusty and corroded and that explained why the machine was not running.
The main board was not harmed since it was in a protective plastic cover and I was happy to see that.

I took the whole motor and the blades out of the casing and this what I saw. I was lucky to have the same kind of device that came for repair but it was not fixed so I took the motor from there and put it on this device. Sorry I forgot to take a photo of the process.
Anyway, the customer was happy to see his hair trimmer alive again and I suggested to him not to wash it under running water again and hope for the best.
Mission Accomplished.

This article was prepared for you by Waleed Rishmawi, one of our 'Master Authors' and currently working in the Bethlehem area of Palestine repairing electrical and electronic equipment.
P.S- Do you know of any your friends who would benefit from this content that you are reading now? If so, forward this website to your friends or you can invite your friends to subscribe to my newsletter for free in this Link.
Note: You can check his previous repair articles in the link below:
https://jestineyong.com/a-ps4-with-overheating-issue-repaired/
Likes
(

56

)
Dislikes
(

2

)