A Dead Reading Book Toy Was Brought Back To Life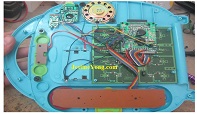 This is one of the toys that my son wanted to give to his friend. I asked my son if the toy is working and he said yes it is but when I installed the batteries and tested the toy, it did not come one. I am glad I checked.

It is a nice toy and it looks like a folder then you add a book to it, press the button and it will read the book for you.
My son loved it very much but it was to move on.

It comes with a lot of books that you can add to this toy and actually reads them to you.

Something I noticed with I put the batteries in that one of the pins was rusty and when I tried to give a clean, it broke.

That is the book reader inside view of the board.
It looks very complicated. The repair is concentrated on the battery compartment.

With a needle nose plier I was able to pull up the metal sheet that connect two batteries together and replace it with a different but new one.

As you can see, the spring piece is broken and had to be replaced. The only replacement I could find is from a remote control pins.

This is the replacement pin.

The moment I installed the batteries, I could hear music coming out of the toy and to confirm it, I am getting 4.421 volts on my multi meter.

Red light is on, music on and the reading continues.

Mission accomplished.
This article was prepared for you by Waleed Rishmawi, one of our 'Master Authors' and currently working in the Bethlehem area of Palestine repairing electrical and electronic equipment.
P.S- Do you know of any your friends who would benefit from this content that you are reading now? If so, forward this website to your friends or you can invite your friends to subscribe to my newsletter for free in this Link.
Note: You can check his previous repair articles in the link below:
https://jestineyong.com/a-not-functioning-soap-dispenser-repaired/
Likes
(

52

)
Dislikes
(

0

)