A dead router power supply was brought back to life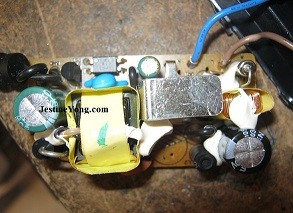 A lost German guy was standing near my shop asking for directions to a certain place. I approached the guy and nicely asked him if he needs any help. He smiled at me and asked where he can find a place when he can get his router fixed. I smiled back and said, follow me. Few seconds later, we were at my shop.  His name was Andreas.
I powered up the router and sure enough, the router did not power up for some reason. When I checked the output voltage of the power supply, it did not show any reading indication a dead power supply.
As always, there are no screws on this charge so I had to cut it open with a sharp knife. Once I opened it, this is what I saw.

A bulged capacitor was found in this power supply. As you can see in the photo, I had to take it out for replacement.
It was 10 microfarad capaitor 400 volts. As you can see there are two of them but one of the them was bulged, the other one was fine
I checked the power supply for any shown bad parts but could not find any. So I had to replace it to see if it works on not.

Once I replaced it with a new one, the power charger was brought back to life. Andreas was so happy to see it come to life. I powered up the router, connected it to my internet connection in my shop and everything worked just fine.
We became good friends. We sat in the shop and talked about so many things in life, politics, and economy in my country and his.
I was able to give him directions to a good technician (me) and got his power supply fixed. We spend great time talking. Mission accomplished.

This article was prepared for you by Waleed Rishmawi, one of our 'Master Authors' and currently working in the Bethlehem area of Palestine repairing electrical and electronic equipment. Please give a support by clicking  on the social buttons below. Your feedback on the post is welcome. Please leave it in the comments.
By the way if you have any good repair article that you want me to publish in this blog please do contact me HERE.
Likes
(

13

)
Dislikes
(

2

)