A dead satellite receiver repaired. Model: Humax F1-ACE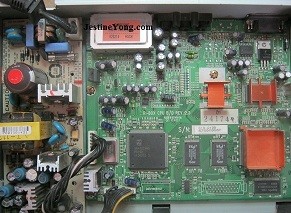 A doctor came to my workshop and he brought a dead satellite receiver with him. He said that it was working the night before but in the morning, he could not turn it on. This was a power related case and was easy fix. Let the repair begin.

I took some screws off and this is what I found inside. A dirty board and power supply. This is an after cleaning photo.  Usually when dealing with no power case, common sense to start with the main power fuse to see if it was open or not. In this case the fuse was intact. My thoughts shifted to something else. I needed to do power testing before any further action. I usually test the main power supply disconnected from the main board then I test it again with the power board connected to the board.

Fortunately, the output voltages were written on the board and that was great because I could know exactly what I am looking for in the voltage reading. There were 12, 33, 5, and 24 volts outputs. This is the exact voltage reading that I got when I did the voltage reading test. This test was done without the main board connected. The moment I connected the power supply to the main board, all the voltages reading jumped up instead of going down.
For example: 12 became 24, 33 became 55, 24 became45 and 5 became10 volts. That did not sound right. There was something wrong with the power supply. I was thinking of capacitor problem. One or man of the capacitors had gone bad that was causing this problem. The question was which one? I got my ESR meter out and started checking for bad capacitors. It was a fast checking and I got the bad capacitors.

As you can in the photos, all the bad capacitors are marked with ink markings. They were two 1000uf/10 volts, two 220uf/30 volts and two 470uf/30 volts. After all these capacitors replaced, thereceiver came back to life.

The doctor came to my workshop to pick up his working satellite receiver and made a nice funny comment. He said that we are both doctors; I heal human beings, and you heal electronic and electrical equipment. I never thought of it like that but it does make sense. Mission accomplished.

This article was prepared for you by Waleed Rishmawi, one of our 'Master Authors' and currently working in the Bethlehem area of Palestine repairing electrical and electronic equipment.
Please give a support by clicking  on the social buttons below. Your feedback on the post is welcome. Please leave it in the comments.
Likes

(41)
Dislikes

(0)
Likes
(

11

)
Dislikes
(

2

)