A no sound problem in a CD player repaired. Model: APEX AD-515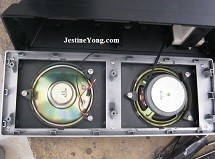 A repair technician, also a friend of mine called me on the phone to help him with a problem. This guy repairs only TV sets and Treadmills. For some reason he does not deal with CD players.

The main problem with this CD player was no sound coming out. I connected the speakers to it, put a music CD in and it started to spin but just like the guy said there was no sound coming out. I turned the volume all the way up and I could hear faint sound coming out but very low. Faint sound means sound IC is in good working condition. Tried to wiggle the wires but problem remained.
I tested the speakers with my digital meter. On one speaker I could read 8 ohms but the other speaker I got an infinity reading indicating a bad speaker.

I took the cover off and tested it again. Sure enough, the main speaker was open and it had to be replaced. Fixing this speaker, will make the no sound problem in this CD player go away because the other speakers is working fine and it should produce sound.
My thoughts shifted to the main program of this CD player. This CD player has two speaker output, one head phone output and on Aux jack. I inserted an active speaker system in the head phone jack and I could hear nice sound. I sent a message to APEX Company and asked them about this problem.  They responded back very quickly telling me that the only answer to this problem was the remote control. Someone has changed the setting on the output of this CD player. I called the customer to get me the remote control and he told me he bought it used CD player and no remote with it.
He added that he is willing to pay for new one if that would solve the problem. I called APEX again and asked about the remote. He kindly told me where to get it from in my home town. They gave me the name of the store and the phone number for that store. I went there and bought the remote. I changed the setting on that CD player, fixed the speaker and the sound came out loud and clear.

This article was prepared for you by Waleed Rishmawi, one of our 'Master Authors' and currently working in the Bethlehem area of Palestine repairing electrical and electronic equipment. Please give a support by clicking  on the social buttons below. Your feedback on the post is welcome. Please leave it in the comments.
By the way if you have any good repair article that you want me to publish in this blog please do contact me HERE.

Likes
(

10

)
Dislikes
(

0

)