A Pioneer CD player repair. Model: X-P170C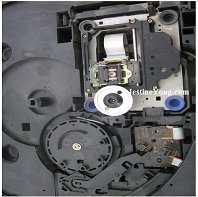 A man brought this CD player to my shop and told me that the CD player works fine but the tray that holds the CD's was not rotating. He tried to clean the Pickup lens on this CD player but in the process, he messed up the timing gear on this tray caused it not to spin.

The first thing that came to mind is the mechanical problem on this tray. It was  not working. I had to open the metal cover and see what lies beneath. Upon opening the cover, I could see the tray. I powered the machine and the tray started to spin but it stopped. I could see that it was about to spin but something held it down.

I took the plastic piece that covers the pickup lens, also has the magnet on it to hold the CD when spinning, so I can access the lower parts of the machine. The moment I did that, the tray started to spin freely. This piece was holding the tray down not letting it to move for some reason. I took the tray that holds the CD's to expose the mechanical parts beneath so I will have an idea what was going on. I could see the mechanical drum. Powered the machine and the machine started to spin in a niece way. I was thinking about a problem in the mechanical part but now my thoughts shifted to something else.

I think either the motor was not handling the movement the way it should be or the motor belt was worn out. When I took the mechanical drum out, I was able to see the motor belt and the moment I took it out, I could see it was worn out and need to be replaced. That made sense to me, when the pickup lens cover and the tray were taken of; it was working fine, when put back, the problem started again indicating that there is a load that the motor could not handle.
To be on the safe side, I have to check the motor. After I dusted the motor, I found out it was in good working condition. I replaced the motor belt and put machine back together. The tray started to rotate and the CD loaded in and it worked nicely.

This article was prepared for you by Waleed Rishmawi, one of our 'Master Authors' and currently working in the Bethlehem area of Palestine repairing electrical and electronic equipment. Please give a support by clicking  on the social buttons below. Your feedback on the post is welcome. Please leave it in the comments.
By the way if you have any good repair article that you want me to publish in this blog please do contact me HERE.
Likes
(

21

)
Dislikes
(

1

)