Acer Laptop Repair- Aspire E1-531 Model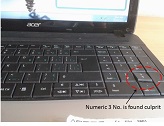 I have received a ACER Laptop for repair with abnormal behavior on booting. As stated by customer this laptop is intermittently going to select startup boot sequence screen and after selecting windows it boot properly but after proper booting when you try to select any application from desktop either with use of mouse or keyboard it gives abnormal behavior i.e. if you click on any application it opens other application which is not selected for clicked.
Here I have doubt if laptop is infected by VIRUS or what? Hence I have check for virus with my bootable antivirus CD but I have not found any hint for virus, on further diagnosis I have again boot the laptop on normal way and manage to start some application. When I have clicked on start icon I found numeric no.3 is keeps on coming in search bar.

Opening Google browsing application also with the same problem ………..
Now I am assuming here some physical problem. Hence I have started visual inspection on keyboard but everything seems ok, now I have opened the application of WinWord from desktop icon and started testing keyboard keys by pressing one by one. Every key typing are ok while pressing but when I have tested towards numeric pad side I am not getting proper effect while pressing "3 ". Hence I have just lifted the "key top" with the help of flat screwdriver; the position of top remain same and it is not going down after release the key that means  this key does not have spring effect.
Removing keyboard from this laptop is very easy because you don't have to remove any screw.

When I removed Keys and hinges I found locking clip side bar and lower groove is Broken.
Now this type of hinges are not available separately in India (you can arrange it if you have same type of keyboard in your junk box) hence I have decided to change the whole keyboard so I have ordered one form our supplier. I have not found original part but he has provided me with a compatible keyboard on trial bases; I have replaced the keyboard and on testing with laptop I found every keys work perfect and other problems are also solved.

This article was prepared for you by Yogesh Panchal who works as a Computer Hardware Engineer in Mumbai India.

Please give a support by clicking  on the social buttons below. Your feedback on the post is welcome. Please leave it in the comments.
P.S-  If you enjoyed reading this, click here to subscribe to my blog (free subscription). That way, you'll never miss a post. You can also forward this website link to your friends and colleagues-thanks!
Likes
(

150

)
Dislikes
(

6

)