AM/FM Signal Generator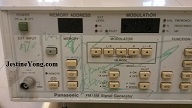 The other day I met on old friend at his shop. While chatting half way he asked me if I would like to have a equipment or not. I was puzzled as what sort of equipment that he wanted to give me. He led me to his room and pulled out the Panasonic AM/FM signal generator under the rack. He told me the equipment was given by his friend and still in working condition. Here are the photos:
I thanked him and brought the equipment back. When I have the time I will explore all the functions of the equipment.
Likes
(

12

)
Dislikes
(

1

)