An LCD Computer Monitor Repaired- Model: HN19K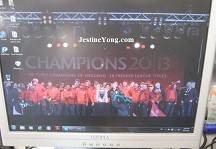 This is an old LCD computer monitor that was flickering when powering it up. After a few minutes it shuts down completely and the stand by light goes dead too. From Experience, usually this is a problem in the power supply either the primary or the secondary and it had to do with capacitors gone badly.

To my surprise, I did not see any bulged capacitors in there. In fact, I think someone was working on this LCD monitor but did not get it fixed for some reason. Anyway, it is time to put my ESR meter in action and find out which capacitor is causing this problem.
It took me about an hour and I found about eight capacitors that displayed a high ESR reading. There were five capacitors 1000uf with different volts, two 220uf / 50, 25 volts, and one capacitor that is 2.2uf/50 volts. It took me another half an hour to put the new capacitors in and I powered up the LCD monitor and I could see NO SIGNAL sign being displayed on the LCD panels and that is a great indication that this monitor is working fine. The primary colors red, blue and green were being displayed as well.

I called the customer and he was happy to see it come to life. He explained to me that this LCD monitor was sitting in his storage room for almost a year.  He had sent it to a guy to fix it but it was not fixed. I was happy that I was able to fix it and it only took me less than two hours to finish the job. I am so thankful for the ESR meter and I recommend it to any repair guy who wants to cut down on repair time and to increase his repair percentage rate.

As you can see above, the LCD is alive again and it is displaying the picture of my favorite English team Manchester united.

This article was prepared for you by Waleed Rishmawi, one of our 'Master Authors' and currently working in the Bethlehem area of Palestine repairing electrical and electronic equipment. Please give a support by clicking  on the social buttons below. Your feedback on the post is welcome. Please leave it in the comments.
By the way if you have any good repair article that you want me to publish in this blog please do contact me HERE.
Likes
(

12

)
Dislikes
(

0

)