An LG DVD Receiver repaired. Model: HT302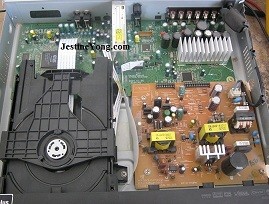 My cousin brought this DVD player to my shop. He told me that it was not reading any disks. I powered the machine but it did not power on. My cousin was shocked to see the no power symptom and he told me to do whatever necessary to get it fixed.

The moment I opened the cover; I could see that it looked nice and clean on the inside of the DVDplayer. First thing I checked was the fuse, and I was not surprised when I saw it open. I did not want to put another fuse in yet because I want to make sure that there was any component shorted in the machine.
I connected a 100 watt light bulb to the main fuse connecters and powered up the machine. The light bulb came on bright then it went dim indicating a good working power supply. I replaced the fuse and powered up the machine and it worked nicely.
I put a DVD disk in there and it loaded nicely but it did not play the movie. I got a message on theDVD screen display that there are no disk in. I cleaned the pick up Lens in there with a chemical liquid and tried to play the movie again-it played nicely.

Sometimes we as techicians expect the worse in repairing but most of the time, it is an easyrepair. In my case, it was only an open fuse and Pick up lens cleaning which took me about five minutes to do. It was an easy fix and I was glad it was done.

This article was prepared for you by Waleed Rishmawi, one of our 'Master Authors' and currently working in the Bethlehem area of Palestine repairing electrical and electronic equipment.
Please give a support by clicking  on the social buttons below. Your feedback on the post is welcome. Please leave it in the comments.
By the way if you have any good repair article that you want me to publish in this blog please do contact me HERE.
Likes

(44)
Dislikes

(0)
Likes
(

6

)
Dislikes
(

0

)