APPLICATION OF MICROCONTROLLER IN AUTO DETECT DOOR OPEN AND PAPER JAM ERROR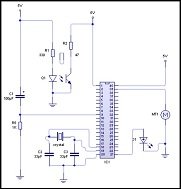 Microcontroller was invented by Intel sometimes in the 80s ever since that invention other Electronics companies such as Atmel, Microchip and Motorola etc have manufactured different brands of Microcontroller like AT89, PIC16F and 68H
All microcontrollers performs specific task based on the set of instructions giving to them through a process called Programming language. Example of programming language includes Assembly and Basic Language to mention few.
The major or crucial important of Microcontroller is in the area of intelligent operation hence they are use in control systems. Nowadays Microcontroller are use in equipment like Washing Machine, Printer, photocopier, Cars, Aircraft, Robot, plasma TV, Computers etc
This Article is looking at the role of microcontroller Application in auto detect door  open or No paper error in printer like HP DESKJET 5740 no Paper and other Brand open Door error
Both printers contain an optical switch ,controller and a dc motor to drive the paper rollers.
The optical switch is made up of infrared emitter and Photo transistor.

The photodiode received about 3.3V – 5v dc supply and emits an infrared signal. The light emitted by the IR LED could be blocked, from reaching the phototransistor base for the following reasons:
When the printer door is closed it pushes the obstacle rubber down, as shown in the diagram above
When the printer is loaded with printer paper, the roller drives through the roller rubber and slide it over the obstacle rubber, thereby pushing it down, and finally the paper ejected at the collecting tray of the printer.
In case of paper jam error, it means the paper does not push down the obstacle rubber. Any time the obstacle rubber is pushed down the logic level can be sensed by the microcontroller or by discrete hardware.
The microcontroller in returns send a signal to the Dc motor to halt or blink a warning LED and send message to the PC through the USB cable to specify the error.
SAMPLE PROGRAM FOR THE AUTODETECT DOOR OPEN OR NO PAPER ERROR IN ASSEMBLY LANGUAGE
ORG 0H
MOV P1,#0ffh ;initialize p1 as input
MOV p2,#0ffh ;initialize p2 as input
HERE: JNB P1.0,HERE ;monitor the sensor if there is blockage
Setb p2.o ;start the roller motor if the sensor is blocked
Setb p2.1;Off the warning light
Ljmp Here
End

 CIRCUIT DIAGRAM FOR THE AUTODETECT DOOR OPEN OR NO PAPER ERROR IN PRINTER
This article was prepared for you by Mike Popoola. He can be contacted at etechnograms@gmail.com
Mike Popoola
E-Technograms Services
http://www.etechnograms.blogspot.com/
Please give a support by clicking  on the social buttons below. Your feedback on the post is welcome. Please leave it in the comments.
By the way if you have any good repair article that you want me to publish in this blog please do contact me HERE.
Likes
(

8

)
Dislikes
(

0

)