Bad Capacitors And Eye Unit Found In Onida Dvd Player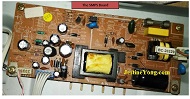 MAKE AND MODEL: Onida DVD Player Model DFX-8520
PROBLEM REPORTED: Dead

TROUBLESHOOTING AND RECTIFICATION DONE: Opened and cleaned the set thoroughly. Dismantled the whole unit and did thorough cleaning of the mechanism, front panel and all boards. Noticed a lot of dry solders. ESRs of the caps were out. So, replaced all the electrolytic capacitors on the boards including the mother board. Did a patch up of all dry solders. Lubricated the moving parts of the mechanism using silicon grease. Lubricated the connector sockets with switch cleaning oil. Replaced the strip wire of the eye unit as it was found to be strained. Opened and cleaned the Original Remote Control, though there was a duplicate bought for it by my brother, to whom this DVD player belonged to.
Checked and found that the original RC Unit was functional. Interconnected the boards and checked for function. The error shown was 'No disk!' I repeated cleaning the eye unit but in vain. It was a clear cut case of bad eye unit. So, replaced the eye unit. I had to then adjust the spindle height by pulling it out and pushing it in in order to make it in exact position. This is a laborious task, as each time, the protective cover-cum-CD holding unit has to be taken out. Finally, it was in place and the player started reading the disks and playing very well. Allowed a few DVDs, VCDs and CDs play in full. This is to ensure that the sliding motor works flawlessly. After ensuring that the player was functioning very well in all respects, assembled the boards back to the unit for further trials. Mission accomplished and got added to the ever growing, but self-readjusting satisfaction bag.
HERE ARE A FEW PICTURES:




This article was prepared for you by Parasuraman Subramanian from India. He is 70 years old and has more than 30 years' experience in handling antique equipment like Valve Radio, Amps, Reel Tape Recorders and currently studying latest tech-classes conducted by Kerala State Electronics Technicians' Association. He has done graduation in BBA degree, private diploma in Radio Engineering and retired as MD of a USA company. Presently working as Consultant to Hospital and other institutions.
Please give a support by clicking on the social buttons below. Your feedback on the post is welcome. Please leave it in the comments.
P.S-If you enjoyed reading this, click here to subscribe to my blog (free subscription). That way, you'll never miss a post. You can also forward this website link to your friends and colleagues-thanks!
You may check on his previous repair article below:
https://jestineyong.com/corroded-tracks-and-bad-capacitors-found-in-sharp-two-in-one/
Likes
(

64

)
Dislikes
(

0

)