Burst PWM IC And Caps Found In Panasonic DVD Player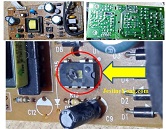 This DVD Player was brought to me with the complaint that it was not used for a few months and it was found dead when switched on. As usual, I opened the set and was taken aback to see a lump of dusty fibre particles that looked like a mini ball, stuck to its mother board and tiny such balls elsewhere. I also saw the PWM IC was cracked and one of the main Filter capacitors bulged.
There were a lot of dry solders too. The fuse was also blown, obviously. The broken portion of the IC, unfortunately got lost in my blower use, before detecting it; a mistake that one should not do! A thorough Visual examination should have been done! Sometimes we fail to practice what we preach!


After a thorough cleaning of inside, I posted the model number of the DVD player in technicians' whatsapp group, requesting for the IC number. In came the reply within minutes by a photo of this SMPS showing the number of the IC, which was TNY177PN. I procured a replacement from the spares shop. After replacing all the electrolytic capacitors (I had two 15uF/500V caps in stock) on the power supply board and this IC and cleaning the board thoroughly using IPA, I allowed time for the IPA to get fully evaporated and applied power.
I got the 5V and 12V correctly. So I applied lubricating oil in the connector and fit it to the main board. When I switched on, it worked perfectly well. Though usually, I do dismantle the mother board, loading tray and all connectors, do a thorough lubrication of all connectors, tray moving tracks etc. I did not do that in order not to disturb the original connections. When I tried the DVD playing CD and USB, it worked very well for several hours. So, there was no need for me to do anything further on the player.
Work finished sooner than expected and satisfaction got collected to its capacity enlarged bag!




This article was prepared for you by Parasuraman Subramanian from India. He is 72 years old and has more than 30 years' experience in handling antique equipment like Valve Radio, Amps, Reel Tape Recorders and currently studying latest tech-classes conducted by Kerala State Electronics Technicians' Association. He has done graduation in BBA degree, private diploma in Radio Engineering and retired as MD of a USA company. Presently working as Consultant to Hospital and other institutions.
Please give a support by clicking on the social buttons below. Your feedback on the post is welcome. Please leave it in the comments.
P.S-If you enjoyed reading this, click here to subscribe to my blog (free subscription). That way, you'll never miss a post. You can also forward this website link to your friends and colleagues-thanks!
You may check on his previous repair article below:
https://jestineyong.com/power-supply-backlight-and-scaler-board-ic-failure-solved-in-vu-led-tv/
Likes
(

55

)
Dislikes
(

0

)