Ceiling Fan Speed Control Repair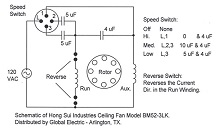 Popular ceiling fans come in many varieties.  The troubleshooting info here will give you a good idea how to analyze the trouble and I will cover several common configurations.
REMEMBER THE FAN OPERATES AT MAINS VOLTAGE IN YOUR COUNTRY, either 120vac, 208vac, 230vac or 240vac.  USE APPROPRIATE PRECAUTIONS.  Remove the fuse, or switch the circuit breaker to OFF before servicing.  Mark or lock the circuit breaker or fuse panel IF YOU CANNOT SEE IT FROM WHERE THE FAN IS.  Also worth remembering is that you may need a ladder to service the fan so while a shock from an energized fan my not kill you the fall from a ladder can cause serious injury.
Let's understand the circuits.
Fan control circuits
These circuits are of several different types:
Capacitive controls located in the fan housing, generally 3 speed
Capacitive controls wall mounted, generally 3 speed
Electronic controls using a triac or 2 scrs for continuously variable speed control
Most ceiling fans have the following common elements:
A speed control switch which also turns the fan on an off.  It is used to select the speed and may have 3, 4 or 5 leads.
A reversing switch will reverse the connections to a motor winding which will reverse rotation direction.
One or more capacitors are used to control the speed.  These are NOT E-Caps.  They are non-polarized capacitors in the low micro-farad range generally from 1 to 10 mfd.  The switch selects one or more capacitors to parallel or series to vary the speed. Look at the following simplified diagrams.
Both are similar but have different capacitors.  The reversing switch is not shown but is usually a double pole double throw slide switch wired to reverse the polarity presented to the "run" winding.


The next thing to do is to analyze the complaint.  Fans that don't turn on are almost always a defective on-off / speed switch or a completely defective speed control capacitor.  Fans that run only one speed or two speeds most times have defective capacitors.  If the capacitor is a multi section unit it could be so defective that it prevents the fan from turning at all.  Often the customer will wait until nothing works.
Here are some defective capacitors.'


Note carefully the capacitor leads and their colors.  If there are 2 leads the same color, as in the first picture, those leads go internally to the same point inside the capacitor and are provided to make it easy to wire.

Analysis:  Bulging capacitors are a sure sign of failure.  Capacitors can go open circuit although this is far less common.  Switches which bind, or are very loose or are completely frozen are also common.  The reversing switch may not have been used for several years.  Try lubricant or contact cleaner on those switches.

Note that capacitors often have the SAME PART NUMBER but are different values. CBB61 is common as a part number.  You should carefully match the sections of the capacitor for the correct value.  Remember that the AC voltage must be higher than your mains voltage.
It is usually indicated on the housing of the capacitor.  It is not necessary to use a capacitor that is a multi value unit.  Two or 3 individual capacitors can be wired in place of a multi unit.  However space inside the fan housing may not permit this.

Make a diagram of each connection BEFORE you disassemble.  Also taking pictures can be helpful.  Often schematic diagrams are not easy to get.

This article was prepared for you by George Persico from USA. He is 69 years old and has more than 40 years' experience in TV repair both Tube and Flat Screen. He also currently repairs small appliances, battery operated tools and computers.
Please give a support by clicking on the social buttons below. Your feedback on the post is welcome. Please leave it in the comments.
P.S-  If you enjoyed reading this, click here to subscribe to my blog (free subscription). That way, you'll never miss a post. You can also forward this website link to your friends and colleagues-thanks!
Note: You can check his previous repair article below:
https://jestineyong.com/fluorescent-desktop-lamp-with-electronic-ballast-repair/
Likes
(

70

)
Dislikes
(

0

)