A cell phone with no sound repaired. Model: Nokia107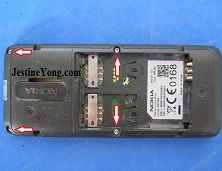 My cousin brought this phone for repair. He said there was no sound coming out of the speaker. The phone powers up fine but audio was not heard. What could be the problem? Well, let us find out.

This is an old model from Nokia. Although my country is very advanced on cell phones, people are still using this kind of phones.
Took the cover and the battery off and I could see that I have to take these screws to take thisphone apart.

I have bought a new set of cell phone screw drivers and I used this brand new screw driver to open this cell phone. For me it was exciting and lots of fun.

This is what I saw after I took the screws off. Also you can see my new screw driver. It is high quality one and I love working with it.
I had to take the board off to access the main speaker. I have used a flat head screw driver to gently lift the board up from its casing. You have to be really gentle with this one otherwise, you could easily break the board.
Well, I was shocked to see this. The moment I took the board off, I can now see why this cell phone had no sound coming out of the speaker. Look what I found.

As you can see in the photo, the speaker was missing. I was really shocked to see that. What happened to it? Where is it? How did it fall out of the phone? The only thing that came to mind either my cousin sent it to another repair technician to replace it or he tried to fix it himself. Either way, the speaker was missing and I have to get a replacement for it.

I went to a cell phone repair guy and also a friend of mine and showed him the phone. He immediately went to his spare parts and got one for me. That put a smile on my face and right away, I went back to the shop and installed the speaker back on the phone. The installment was easy and fast.
I put the phone back together and called my cousin from his own phone and I could hear him loud and clear. Mission accomplished.

This article was prepared for you by Waleed Rishmawi, one of our 'Master Authors' and currently working in the Bethlehem area of Palestine repairing electrical and electronic equipment.
Please give a support by clicking  on the social buttons below. Your feedback on the post is welcome. Please leave it in the comments.
P.S- Do you know of any your friends who would benefit from this content that you are reading now? If so, forward this website to your friends or you can invite your friends to subscribe to my newsletter for free in this Link.
Likes

(18)
Dislikes

(0)
Likes
(

1

)
Dislikes
(

0

)