Continuous Restarting On INTEL CPU Solved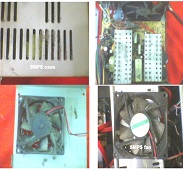 A customer called me telling me that her INTEL CPU DG41WV was restarting continuously every 15 minutes. When I got to her house, this is what I saw- computer full of dust!

Let's see what was found when the chassis was opened up.

  The first device I took out was the SMPS.

The SMPS was disassembled into pieces and cleaned carefully, both fans were lubricated too.
The other step was to clean/lubricate the Microprocessor fan.

Next was the NVidia GForce G 210 Graphics Card. It was full of dust also.

The Graphics Card was fully cleaned and the fan was cleaned and lubricated because it was too rigid. The rest of the PC was cleaned too: inside the chassis and the Motherboard. When the PC was armed completely and switched-ON, it really worked fine and was saved. After finishing my article I want to say that all the electronic equipments need a maintenance job, because too much dust can damage electronic circuitry, and another detail that should be taken into consideration is the ventilation. Please do not forget these two details.

This article was prepared for you by Humberto Rodriguez, one of our 'Master Authors' from Cuba.
Please give a support by clicking  on the social buttons below. Your feedback on the post is welcome. Please leave it in the comments.
P.S- Do you know of any your friends who would benefit from this content that you are reading now? If so, forward this website to your friends or you can invite your friends to subscribe to my newsletter for free in this Link.
Likes
(

29

)
Dislikes
(

2

)