Dell Studio laptop with model PP33L has a touchpad problem-solved.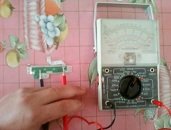 Dear all,
A Dell Studio laptop with model PP33L has a Touchpad problem. The problem was buttons (Right click , Left click ) have  no respond to click.
I guessed at beginning the problem was software, the driver is not working or the options of buttons were off. I installed the driver again and configured the touchpad correctly but the problem not solved, at this time I decided the problem is a hardware problem and not software.
1-       I removed the flat and keyboard.


2-      In this model the touch pad circuits in the top plastic cover, so I removed all the screws from laptop backward as shown below.

3-      I checked the flat cable to its connectors place it was ok.

4-      I removed the buttons only from its place as shown below.

5-      After  i have removed the buttons, i began to check the buttons's tracks, i noticed the tracks were open. I soldered it carefully with  thin wires as shown below. I checked the continuity of the tracks by my analog meter set to x1 ohm the tracks were ok.

I fixed back all the things and started the operating system and the buttons worked perfectly good.
This article was prepared for you by Engineer Mohammed Saad Eldien. Please give a support by clicking  on the social buttons below. Your feedback on the post is welcome. Please leave it in the comments.
By the way if you have any good repair article that you want me to publish in this blog please do contact me HERE.
Likes
(

9

)
Dislikes
(

0

)