Different Type Of Resistor and Capacitor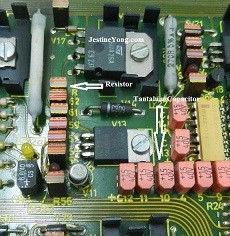 Recently, a repair friend of mine brought in an electronic card where he took it out from an old machine cutter. The card was estimated to be more than 30 years old. He shown to me the type of resistors and tantalum capacitors. They are totally different from the current type of components. I have not seen such components before and this is why I took a picture and show it to you.
I guess those who already in this repair field since the 70's or even 80's could have seen this kind of components. If you know what is the type of the resistors shown please do leave a comment-thanks. By the way this repair friend of mine have over 30 years of experience in electronics repair and I'm really bless to have him around.

Likes
(

3

)
Dislikes
(

0

)