Dry Solder And Bad Capacitors Caused Refrigerator Stabilizer To Go Dead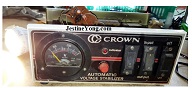 This voltage Stabilizer belonged to a family friend and was brought to me stating that it did not work. When I checked it up, the complaint was correct as no output was coming. There is a voltage meter which can be connected to input or output through a selector switch. Then when we press the indicator switch, it will show the reading. However, the needle was getting stuck after around 150, which meant that it cannot be relied on.
First duty was to open and clean it up thoroughly, which I did. It had collected dust all over to the extent possible!


Then looked for the trouble maker, which I found as dry solder on the wire connected to the relay, which looked like just wound on the contact instead of soldering. After cleaning and soldering it, the relay worked properly. Anyhow, I reworked on this stabilizer from in to out, by re-soldering and tightening the screws wherever the wires were fastened with screws. Replaced the two electrolytic capacitors as the readings were far out of range (both ESR and capacitance).

The circuit used one diode DS5 and one transistor C547B. The Stabilizer indeed had been handled by another technician long back, as I could make it out from a few solder spots and replacement of this transistor. But why was the relay wire just wound on the contact instead of soldering, is something that baffled me. Perhaps to make sure that it goes back for another service?!

After finishing the work, I connected a 100W bulb as load and checked. It worked perfectly.
This stabilizer used only one relay, which meant that there was only cut off and no boost/buck like many others, which used two relays and corresponding winding wires in the primary. So, this was a very old design.

As the customer was not using the meter, she (a widowed old lady living alone) did not want it to be replaced. I checked the input/output in the meter after pressing the bell button and selecting the switch to that point. Here is what I saw:

These are the two capacitors that I changed, which taped to its cabinet when giving delivery to the customer.

Anyhow, satisfaction never failed to get added to its collection bag!

This article was prepared for you by Parasuraman Subramanian from India. He is 70 years old and has more than 30 years' experience in handling antique equipment like Valve Radio, Amps, Reel Tape Recorders and currently studying latest tech-classes conducted by Kerala State Electronics Technicians' Association. He has done graduation in BBA degree, private diploma in Radio Engineering and retired as MD of a USA company. Presently working as Consultant to Hospital and other institutions.
Please give a support by clicking on the social buttons below. Your feedback on the post is welcome. Please leave it in the comments.
P.S-If you enjoyed reading this, click here to subscribe to my blog (free subscription). That way, you'll never miss a post. You can also forward this website link to your friends and colleagues-thanks!
You may check on his previous repair article below:
https://jestineyong.com/fixing-blue-tooth-usb-fm-module-in-sony-component-system-rv-5/
Likes
(

47

)
Dislikes
(

0

)