No Disk Error In Onida DVD Player Repaired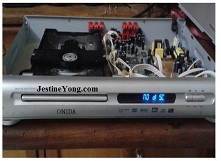 Customer sent to me his DVD player for repair with the complaint of No disk error. When I powered up the DVD Player it makes some grinding noise. I had to open the casing to analyse and check where the noise from.

When I pressed the eject button the tray was not coming out and the noise was coming from CD tray assembly area.
Upon close inspection I found a belt was broken.

Once the new belt replacement was done and powered On, the DVD player could play a DVDdisk with no more " No disk error" symptom.

This article was prepared for you by Yogesh Panchal who works as a Computer Hardware Engineer in Mumbai India.
Please give a support by clicking  on the social buttons below. Your feedback on the post is welcome. Please leave it in the comments.
P.S- Do you know of any your friends who would benefit from this content that you are reading now? If so, forward this website to your friends or you can invite your friends to subscribe to my newsletter for free in this Link.
Likes

(190)
Dislikes

(2)
Likes
(

9

)
Dislikes
(

0

)