EPSON LX 300 Printer FONT Selection Not Working Repaired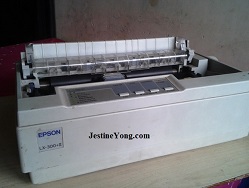 Customer visited my workshop with LX 300 Printer complaining that he is not able to change the FONT through control panel.

I have powered on the printer and tried to change the font with the switch but it is not working.
In this printer process is like these – first power ON the printer then you have to press paper out /pause button for 3 second then you will get the beep sound from the printer then you have to press the FONT button to get the required FONT.

(Caution:  This type of printers having multiple internal setting option by using these combination Keys you can customize paper size, width, height adjustment and so on. So please refer the user Manual before the process. Remember each printer model having different combination Keys so this setting is not applicable to any other Printer manufacturer and printer Model.)
Now for this problem my first suspect is FONT Switch itself. So I have removed top cover as follows…

I have desoldered this micro switch for testing, while testing with multimeter I found this switch is not working properly hence I have washed this switch by isopropyl alcohol and tested again this time it gives me positive result . 

Hence by giving power to the printer I have followed the process as said above for testing the FONT switch it works perfectly and now I am able to change the FONTS as per my requirement.

This article was prepared for you by Yogesh Panchal who works as a Computer Hardware Engineer in Mumbai India.
Please give a support by clicking on the social buttons below. Your feedback on the post is welcome. Please leave it in the comments.
P.S- Do you know of any your friends who would benefit from this content that you are reading now? If so, forward this website to your friends or you can invite your friends to subscribe to my newsletter for free in this Link.
Note: You can check out his previous repair article in the below link:
https://www.jestineyong.com/pronet-8-port-network-switch-repaired/
Likes
(

112

)
Dislikes
(

0

)