Fisher and Paykel Washing Machine Repair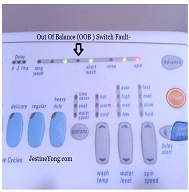 This washing machine is more complex than first thought. The other day, when my wife was doing a load of washing, it started to beep in an unusual fashion. 5 beeps every 6 seconds could be heard and then the machine would go into pause mode. Although I am an Automotive Electrician, we can use the same method of diagnosis, even though it is different equipment.
The LED lights that run during the different cycles gave a code. I was able to access a service manual on the internet, which directed me to the out of balance switch as having a fault.

 (00101011) OOB Switch Fault
The zeros and ones correspond to the LEDs that are lit and ones that are not. The service manual showed how to enter the diagnostic mode and then test the switch by moving the tub from side to side. The 6 minute LED would illuminate when the switch was closed. This seemed to work fine.  I decided to have a closer look at the switch and the lever it was attached to.
After asking my wife a few questions, the answer became clear. Some time ago, she had washed some cushions, but one started to fall apart during the cycle. Unfortunately, some of the cushion material had wrapped around the Out Of Balance lever, which become closer to the drum, therefore giving the SmartDrive system the false indication that the load was out of balance. Once the material was removed and all codes were retested and cleared, the washing machine was active once again.

Such a small thing can stop a big machine. I was also surprised that a washing machine could have such a complex system of codes and diagnostic paths. This is something we use in the Automotive industry, but I didn't expect in a washing machine.
As I said……same diagnostic method, different equipment!
This article was prepared for you by Mark Rabone from Australia.
Please give a support by clicking  on the social buttons below. Your feedback on the post is welcome. Please leave it in the comments.
P.S- Do you know of any your friends who would benefit from this content that you are reading now? If so, forward this website to your friends or you can invite your friends to subscribe to my newsletter for free in this Link.
You may check his previous repair article below:
https://www.jestineyong.com/pioneer-sm-700-amplifier-repair/
Likes
(

109

)
Dislikes
(

0

)