FM Radio With USB Attachment No Audio Output Fixed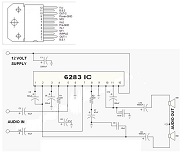 I have received locally assembled FM Radio with USB Attachment form one of our Office boy for asking the help if we could do repair his radio equipment.
Described problem symptom is when power "on" the unit power LED glows but there is no sound from speakers either from FM mode or from USB Mode. So before plugged into the power source I have opened the unit for visualize inspection. I found everything is proper and no sign of physical damage burnout or dry solder.

Then I removed the Amplifier Circuit for checking, this circuit is very small with few components with power amplifier IC CD6283 CS .I have checked surrounding components but nothing found suspected up till. Checked both the speaker with multimeter for continuity where I am getting 4 Ohm so these result also ok.
So I decided to power up the unit and see .so I plugged this unit to power outlet for testing after applying power I found Power Led light up and Display unit also showing status about Mode everything is seems ok.

Now I decided to check some Voltages on suspected area I have checked out put power on Transformer I got 12,8V AC, so this section is ok further I touched the IC for finding overheating but I am feel normal Heat  .
I Google for IC Database I found pin out as follows. This is 4.6w Dual Audio Power Amplifier 12 PIN IC.


As indicated in diagram this IC works on 12V DC so after powering ON I have checked VCC pin of IC for 12V and to my surprise it indicates right Voltages.
I have checked both the volume controls with help of Multimeter found OK.
As older trick touching input and output section with help of bare finger, speaker should give some humming sound i.e. if you get humming from speakers while touching output section (I.e. Pin no's 8 and 10 and respected components till the Speakers are output) is ok than problem is with Input section but I am not getting any indication of sound.
Further I found one Voltage Regulator transistor on this circuit that is LM 7805 which provide working 5 V DC to USB attachment PCB which control FM as well USB.
( sorry for missing photograph of the FM/USB  PCB please refer to 1st Photo)
Just giving Identical  similer PCB photo for your reference

FM With USB Attachment Circuit

I have checked this Transistor I have got 5V DC that means amplifier and power section ok.
"So what is wrong with the equipment for NO sound? "
Dear friends this whole process took around 1 Hour for troubleshooting. As I have not intended to open the unit for repair at this time because I have already fixed an appointment with one of my clients and he has suppose to pick me up on the way to his office for troubleshooting networking problem ; till the time he comes to my office I have done this program.
client gave me call that he is reaching by half an hour to my premise ,Now till the time I have packed the unit by decide to get it done some other time .
Now just hold your heart because I found the fix.
By keeping this unit on the shelf— look what I found, I found one switch behind the unit

Now you can understand my anger with Joy situation!!
Because switch is shifted towards External speakers where no external speakers are connected and I am expecting sound from internal Speakers hence I have just shifted the switch position towards internal speakers and now I can hear the sound from the unit.

This article was prepared for you by Yogesh Panchal who works as a Computer Hardware Engineer in Mumbai India.
Please give a support by clicking on the social buttons below. Your feedback on the post is welcome. Please leave it in the comments.
P.S- Do you know of any your friends who would benefit from this content that you are reading now? If so, forward this website to your friends or you can invite your friends to subscribe to my newsletter for free in this Link.
Note: You can check his previous repair articles in the link below:
https://jestineyong.com/heres-a-surprising-trick-repairing-hard-disk-hdd/
Likes
(

66

)
Dislikes
(

1

)