Happy New Year Broken Down Audio Amplifier Restored Back to Life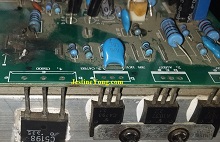 This amplifier was brought to me by a pastor with complaint the amplifier got burnt in the new year day 12am midnight immediately after members of his church shouted happy new year. What a coincidence!!!. It's a two channels sleeve amplifier.
As usual I removed the case cover, clean inside, also clean the two fans inside (one fan for each channel) and with visual observation, I could see some burnt resistors on one channel's board.




I suspected there may be some passive bad components which visual check will not detect, so I use my meters to check all components on this board.
With this I found transistor 2sa1943-shorted( PNP, collector shorted to emitter),C5198- open, A1931-open,the big white resistors are open and some other defective components.

The second channel board is intact. So I replaced all bad components with good ones.
Then I powered amplifier and it came alive, call the Pastor, who came, took it to his church for testing and called to confirm audio is loud and clear. See pictures below:

This is the finished repaired work.

This article was prepared for you by Imoudu Onwumah from Nigeria. He is 62 years old and has just 3 years experience in electronics repairs. I started career in hotel industry as a chef, but then I was doing repairs only in electrical repairs as a hobbyist. In 2018, I decided to learn about electronics which through Jestine's electronics e-books and holding my hand, am an electronics techie today.
Please give a support by clicking on the social buttons below. Your feedback on the post is welcome. Please leave it in the comments.
P.S- If you enjoyed reading this, click here to subscribe to my blog (free subscription). That way, you'll never miss a post. You can also forward this website link to your friends and colleagues-thanks!
Note: You can read his previous article on Bruhm LED TV Repaired
Likes
(

84

)
Dislikes
(

0

)