Here are the photos taken in Australia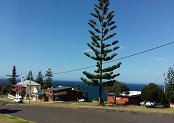 My friends, family and I first went to Sydney to stay for three days before heading to Tathra Wharf for a fishing trip. On the first night in Sydney we were invited by a friend who had stayed in Australia for more than 40 years for a dinner gathering with his family. We were  blessed to have him arranged for all the accommodation in Sydney and in Tathra. It was an 8 hours drive from Sydney to Tathra and I drove a rented second generation Kia Carnival and it was a nice and powerful MPV. On the second day morning (Sunday) we went to a local church (Blessing Church) and after the service we went to grocery shop to buy all the necessary things and food before heading to Tathra with 3 MPVs on Monday morning. We reached there about 4 pm (we stayed at Sapphire Court) and along the journey we could see lots of beautiful sceneries and Batemans Bay was just superb! Tathra is such a beautiful place with nice beaches, people and etc. The temperature was about 20 to 22 Celsius. We were mainly fishing at the Wharf and the beach. The fishes that we caught were Tailor and Salmon. On Thursday we checked out about 10.30 am and reached Sydney about 7 pm. We took the 3.30pm flight on Friday and by the time we reached home, it was already about  12 am.
My family and I liked the place (Tathra) and if we have the chance to go there again we will surely visit the place again. Below are the photos taken during the 7 days trip to Australia:







With friends

The place where we stayed-Sapphire Court

 Nice view from behind our apartment

Nice view of Tathra

Nice view of Tathra

That is the Kia Carnival that I drove

With all the anglers on the Wharf

If the fish size is too small, you have to release it back to the sea.
Likes
(

70

)
Dislikes
(

1

)