Humming Sound In Yamaha PSR e403 Keyboard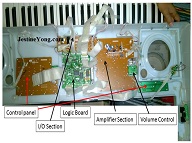 My nephew called me to check on his Yamaha Keyboard with the problem of humming sound. On testing I observed the humming sound coming from both the speakers and it kept  gradually increasing. Hence we opened the keyboard for inspection.

This type of Humming sound problem are most likely due to either earthing problem or due to some faulty capacitors hence I decide to directly check the amplifier section.
On visualize inspection everything looks ok. I have removed the PCB; there are very few components on this section.

So I have downloaded IC data from the internet for reference for IC BA 5417 and I have decided to test the capacitors which are directly grounded from IC (Because I am getting Humming from both the speakers if you get humming from only one speaker then test respected output pins i.e. pin number 2-3 and 5-6) so I have started with big capacitor which is connected to pin no 4 and 8 which is supply voltage to IC.

I found the 1000uf 25 volt e-cap bad and this is the reason why it causes the humming sound.

After replacing the capacitor I powered "ON" the Keyboard and tested it for ½ an hour. The humming sound was gone. My nephew was so happy and I can't describe in words about his expression.
This article was prepared for you by Yogesh Panchal who works as a Computer Hardware Engineer in Mumbai India.
Please give a support by clicking  on the social buttons below. Your feedback on the post is welcome. Please leave it in the comments.
P.S- Do you know of any your friends who would benefit from this content that you are reading now? If so, forward this website to your friends or you can invite your friends to subscribe to my newsletter for free in this Link.
Likes
(

268

)
Dislikes
(

0

)