Useful Bulb Testing Method To Solve Household Instant Water Shower Heater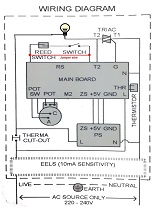 A friend  has asked me to analyse this 3.6KW Joven water heater for him which cannot turn on. Water heater is a common household electrical applicance but surprisingly not much informations can be found in the internet The unit has an electrical diagram sticked on to the casing as shown in figure 1

Water heater after disassembled from the water supply cannot be turned on or test due to  safety built-in feature. In order to test or trouble-shoot the fault you need to over-ride the safety function.
You need to use the bulb method i.e the heater need to replace with a 100w bulb  and the flow  switch sensor or reed switch need to over ride with a jumper wire as shown in figure 2. Alternatively, you may use a small magnet & place on top of the sensor to close the reed switch.


Figure 2
Now the water heater can be tested without water and it will function like a normal light dimmer when the pot switch is rotated (temperature control switch) as shown in figure 2.It is very much convenient and easier to test  in this mode rather than trying to trouble-shoot or repair  the unit hanging on the bath room wall. When power on the  led is not lighted indicating the voltage is being cut off completely. There is a resetable thermal cut-off switch mounted on top of the heater which is at cut-off position.After resetting it the power is able to turns on.
When the heater thermal fuse is triggered and cut-off , I suspect the heater is shorted but when I measured the dc resistance it showed normal reading i.e 16 ohm.( power rated at 3.6KW).Using the power formula V2/R=3.6KW which is correct. Since there is no other faults can be found I decided to test the water heater in the normal working condition i.e with water supply and electricity connected.
Now the real fault appeared, there is no water coming out of the shower head indicating the pressure switch is having a problem. This is the reason why the thermal switch tripped due to over heating as insufficient water is flowing inside the heater. When I disassembled the pressure switch ,the rubber pressure stopper was observed to be  deteriorated  and sticky as shown in figure 3 which prevent the pressure from releasing through the centre hole. Normally, the flow sensor reed switch will not close and the heater will be cut-off or non operative if the pressure is insufficient. I suspect the pressure sensor sensitivity is having problem.

Pressure switch is not easily available as it is normally a customised part and expensive to replace, so I replaced the rubber stopper with a pencil eraser rubber which is cut to almost the same size and diameter as the original stopper (see figure 4). It works perfectly normal when I tested the water heater again.
Any brand or model of water heater can apply using the bulb testing method. I have tested and repaired a few thousand units of water heaters with this method without any problem.

This article was prepared for you by SK Wong from Malaysia and he graduated from London with a degree in Electronics and Electrical Engineering. He has more than 40 years of experience in the consumer product manufacturing. With the passion to repair electronic products from young , he has been doing it part time until now.
Currently, he can provide turnkey solutions for consumer products including services from idea or concept to design , prototyping , finished products (including electronic,mechanical and plastic parts) and manufacturing.
Please give a support by clicking on the social buttons below. Your feedback on the post is welcome. Please leave it in the comments.
P.S-  If you enjoyed reading this, click here to subscribe to my blog (free subscription). That way, you'll never miss a post. You can also forward this website link to your friends and colleagues-thanks!
Note: You can check his previous repair articles below:
https://www.jestineyong.com/diagnosing-t-con-board-with-gamma-distortion/
Likes
(

154

)
Dislikes
(

0

)