Power jack on a laptop board repaired. Model: Acer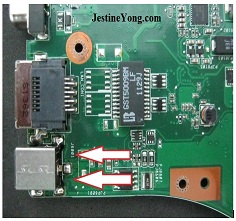 A computer guy walked into my workshop carrying an Acer laptop board. He wanted me to check if there is any volt reading at thepower socket of the board. While him still in the shop, I tested the power socket and there was no volt reading there. The pin of that power socket was broken and it had to be replaced.
I powered up the rework station and in a few minutes time, the socket was off board and ready for replacement.

It was not hard taking this power socket out but it was very hard to find a replacement. I have looked everywhere to find it but without any luck.

Here is a close up photo of the power socket that needed replacement. In my area, these kinds ofpower sockets are very hard to find. The only way to get it is by ordering them online.

It might take about two weeks to three weeks to get to me. The customer was not willing to wait for this kind of time period so I had to act fast even if I have to replace it with a used one.

The pin inside this power socket was loose and it was not delivering any kind of power to the board.

This is the other side of the power socket and as you can see the pin that goes to the board is broken. I was thinking about replacing the whole pin inside but with many tries, I was not able to do that. A new or old part had to be found so the repair will be complete.
I decided to go through all the boards that I have in my shop. I have spent about an hour or so looking for this but without any luck. I decided to all technicians in my area. A guy and a friend of mine told me that he has a used one. At this time I was willing to try anything. So I went to his shop and got. It was in an excellent condition but it is still used part.

The part was replaced and the power was present at the positive power pin. The guy took the board and put everything back together. It worked fine and he was happy. Mission Accomplished.

This article was prepared for you by Waleed Rishmawi, one of our 'Master Authors' and currently working in the Bethlehem area of Palestine repairing electrical and electronic equipment.
Please give a support by clicking  on the social buttons below. Your feedback on the post is welcome. Please leave it in the comments.
P.S- Do you know of any your friends who would benefit from this content that you are reading now? If so, forward this website to your friends or you can invite your friends to subscribe to my newsletter for free in this Link.
Likes

(26)
Dislikes

(0)
Likes
(

7

)
Dislikes
(

0

)