19″ Philips LCD Monitor Repaired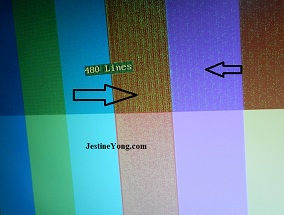 The complaint of the 19" Philips LCD Monitor was display problem. Take a look at the photo below.

You could clearly see all the color distortion in the color bar test. This kind of problem can be caused by bad LCD panel, cables/wires (some use LVDS cable) or the mainboard.
In order to isolate if the LCD panel is good or bad I pressed on the OSD menu. Take a look at the photo below again.

You will notice that the OSD menu is not affected. This means the problem is nothing to do with the LCD panel. If the OSD menu is affected I would suspect a bad LCD panel also. My focus now would be on the cables/wires and the mainboard. Usually I would check on the cable/wires first and if good then I will focus on the mainboard. For your information it is hard to access the cable without removing the metal cover.
Once the metal cover was removed I tried wiggling the cables/wires and to my surprise the display immediately came back to normal. I believe there could be one or two wires that had dried joints/contact problem causing the display problem. If wiggling does not help I would reseat the connector.

Resoldering all the joints at this connector solved the LCD Monitor display problem.

By the way if you want to be an expert in LCD Monitor you can take a look at this website.

Please give a support by clicking  on the social buttons below. Your feedback on the post is welcome. Please leave it in the comments.
P.S- Do you know of any your friends who would benefit from this content that you are reading now? If so, forward this website to your friends or you can invite your friends to subscribe to my newsletter for free in this Link.
Likes

(322)
Dislikes

(4)
Likes
(

4

)
Dislikes
(

0

)