LCD screen with white display repaired. Model: E machines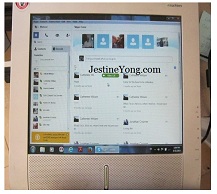 A mechanic brought this LCD screen to my shop for repair. He said that this LCD screen has white display. He said it was working fine and suddenly, a white display showed up. I was thinking of the worst at that time because white display on the screen it does not happen just like that. Anyways, I decided to open it and see what I can do to help this customer.
It has an external power supply and when checked for power, it was working fine. Here is the power supply

The moment I took the screws off, I was able to see what inside of this LCD screen and I realized also that this LCD screen was sent for repair before it was brought to me.
Take a look inside and see.

I saw this capacitor sitting on the metal of the LCD case. This is a dangerous thing to do. What if the electrical tape came off and then it touched the metal part of the LCD screen? That would short it out and it might cause a big damage inside.

You can also see the black jumper wire that connects two capacitors together. That is a very careless thing to do with it comes to professional repair job. It should not be done like that. The rest of the stuff inside this LCD screen was fine or at least that is what I thought in the first place. Let me explain.
Usually when there is a white display on any LCD screen, first thing I think of is either loose screen cable or damaged one. In this case it has two cables connected to the LCD panel and it seems they were in good condition.
I have checked everything in this LCD screen. The voltage to the inverter IC was there and everything checked fine. I asked myself what if the cables connected to the LCD panel were connected in the wrong way.
I checked closely and in fact, both cables were connected wrong. That explained the white display. The moment, I connected them in the right way look what happened.

It is alive again. Actually there was nothing wrong with it except these two cables connected in the wrong way.
Anyway, it is working fine now and as usual, Mission Accomplished.

This article was prepared for you by Waleed Rishmawi, one of our 'Master Authors' and currently working in the Bethlehem area of Palestine repairing electrical and electronic equipment.
Please give a support by clicking  on the social buttons below. Your feedback on the post is welcome. Please leave it in the comments.
P.S- Do you know of any your friends who would benefit from this content that you are reading now? If so, forward this website to your friends or you can invite your friends to subscribe to my newsletter for free in this Link.
Likes
(

36

)
Dislikes
(

0

)