LG CRT TV with picture problem repaired. Model: RT-29FA34RB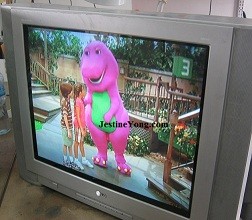 A very unusual problem with this CRT TV was brought to my shop by a friend of mine. I powered up the TV set and here is what I saw.

From experience, I thought it was a vertical problem caused either by bad vertical IC or few bad capacitors. It turned out to be a repair adventure and new experience. Let us begin.
I took a few screws off and the inside of the TV was exposed to me.

My thinking was focused on the vertical IC and the surrounding capacitors. I took the ESR meter out and found four bad capacitors. I found two 2200uf/25 volts and two 47uf/25 volts.  I powered up the TV set and that did not solve the problem. I measured the voltage reading at the vertical IC and I got 13 volts coming all the way from the fly back transformer at the high tension area. The vertical IC with part number LA 7841 was getting the right voltage and because of that, I thought that this IC was bad. I changed it but it did not solve the problem either.

My thinking shifted to another cause of this problem. I know for sure it is a bad capacitors problem because when I blew hot air on some capacitors on board the problem disappeared and when I used cold air, the problem started again.
I have found a board that is soldered to the main board of the TV set. It has lots of small tiny capacitors and seems like most of these capacitor were bad. I thought to myself, if I change the whole board that would be a lot easier than replacing all these capacitors. I looked around in my storage room and I was lucky to find exactly the same board. Before, I soldered back on board, I checked all the capacitor with ESR meter and I had to replace two of them.  They were 100uf/25 volts.

It was not easy to take it out because I have lots of soldering joint to de-solder. It was still easier than replacing all these capacitors on that board. Once I replaced the board, this was the result.

It took me about two days to find the cause of this problem. Everybody was happy. Mission accomplished.

This article was prepared for you by Waleed Rishmawi, one of our 'Master Authors' and currently working in the Bethlehem area of Palestine repairing electrical and electronic equipment. Please give a support by clicking  on the social buttons below. Your feedback on the post is welcome. Please leave it in the comments.
By the way if you have any good repair article that you want me to publish in this blog please do contact me HERE.
Likes
(

65

)
Dislikes
(

6

)