Mosquito Zapper Racket Repaired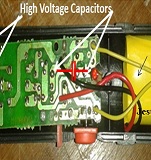 One of my friends in our housing society came to my house in the evening with his Mosquito Zapper Racket. The complaint was his racket showing charging Indication when connected to mains line but it was not killing any mosquito.

On testing. I have seen there is no Indication of Active LED while pressing momentary switch (usually when you press the momentary switch you can see the Indicator LED glow.)
I opened the racket for visual inspection but I have not found any burning mark, physical damage or any dry solder on the PCB. As I have mentioned above, the racket was showing charging indication that means charging circuit is OK. The question is why the indicator of active Momentary switch is not glowing when pressing the switch? Hence I decided to remove the PCB and check the components.

Note: Discharge the High voltage capacitor first before you start the troubleshooting work otherwise you may get a heavy electric shock.
First I have checked the Momentary switch while testing the switch on the PCB I am not getting continuity that means switch is bad. Hence I have removed the switch from PCB and test it with continuity tester (With the help of probe I have made as shown in the photo below). It is confirmed that the switch is bad.

Hence I have replaced the switch with new one.

Now I have decided to test the Racket by reassembling and see what the result is!! .after the process I have pressed the Momentary switch and by touching the middle and outer grid with insulated screwdriver I am getting high voltage spark which also mean the racket is working perfectly.

Note: Once you are familiar in electronics repair, you can practically repair or try to repair any electronics device that comes in your way. It is not about the price of the device, it is more on the satisfaction that you can gain by bringing a dead device back to life again.
This article was prepared for you by Yogesh Panchal who works as a Computer Hardware Engineer in Mumbai India.
Please give a support by clicking  on the social buttons below. Your feedback on the post is welcome. Please leave it in the comments.
P.S- Do you know of any your friends who would benefit from this content that you are reading now? If so, forward this website to your friends or you can invite your friends to subscribe to my newsletter for free in this Link.
Likes
(

45

)
Dislikes
(

0

)