Music Mantra Box Repaired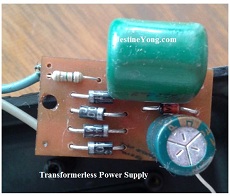 A customer sent me a non-working Music mantra box for repair.  The complaint was no power.  Once the cover was opened I saw a small circuit board where the AC cable was attached to.

Further checking on this small circuit board I noticed that it was a transformerless power supply circuit board.  There was AC supply but no output voltage. This means the AC power cable is good and the problem is in the circuit board.

If you look at the photo above you will notice that there were not many components found in this circuit board. There were only 8 components in the circuit board. Checking these components is not tough provided if you have the right meters and the skill in testing these components. If you are a beginner and wish to know how to test electronic components like a professional then you can visit this website by Jestine Yong.
Okay back to the troubleshooting topic. I soldered out one leg of each component for accuracy testing purpose. Some components you just can't test it on board, you must solder it out and test with the right meter.  All components checked to be good except the Zener diode-it was open circuited when tested with my Multimeter. It has a marking of C4V7PH which means 4.7 volt.

After installing with a new 4.7 volt Zener Diode I got 5 volt DC at the output and the no power problem solved.
Check out the Music Mantra Player:

Note: Transformerless power supplies are very dangerous because they are not isolated.
This article was prepared for you by Yogesh Panchal who works as a Computer Hardware Engineer in Mumbai India.
Please give a support by clicking  on the social buttons below. Your feedback on the post is welcome. Please leave it in the comments.
P.S- Do you know of any your friends who would benefit from this content that you are reading now? If so, forward this website to your friends or you can invite your friends to subscribe to my newsletter for free in this Link.
Likes

(112)
Dislikes

(1)
Likes
(

2

)
Dislikes
(

0

)