My Home PC Repaired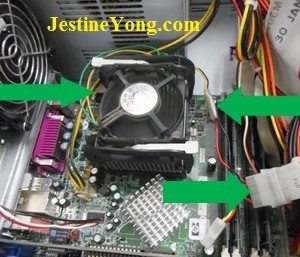 My home PC is an old model- HP Compaq Model HP d530 CMT (DN276S).

It suddenly started working with a very slow behavior, so I restarted it and when it started, look at the error message showed on the display.

The message is the error 511 which means there is no CPU fan connected and this is very dangerous, because the Microprocessor in not cooling adequately and it can be destroyed by the heat.
When the Microprocessor fan was checked, I found that it was not spinning. First thing done was to disconnect it from the CPU Fan socket and connect it into the chassis fan socket (the rear chassis fan was disconnected previously and it was spinning) and it really did not spin at all.

So till here we can conclude the Microprocessor (MP) fan was out of order. Another fan was gotten to substitute the broken one, but this time when it was connected into the socket in the Motherboard it really did not spin, but when it was connected into the chassis Fan socket it really turned well. It means the CPU Fan socket was not getting the voltage to supply the fan.
Therefore a PC male-female of four-ways of a rear fan was obtained to substitute the original connector of the MP fan (which was cut previously), look at the photo below.

At this time the male socket of the rear fan was plugged into one male socket of the SMPS, and the positive and negative terminals were soldered and isolated with adhesive tape as shown in the photo below:

The fan is spinning at full speed now, so Mission accomplished.  
This article was prepared for you by Humberto Rodriguez, one of our 'Master Authors' from Cuba.
Please give a support by clicking  on the social buttons below. Your feedback on the post is welcome. Please leave it in the comments.
P.S-  If you enjoyed reading this, click here to subscribe to my blog (free subscription). That way, you'll never miss a post. You can also forward this website link to your friends and colleagues-thanks!
Note: You may check his previous repair article in the below link:
https://www.jestineyong.com/kingston-usb-repaired/
Likes
(

133

)
Dislikes
(

0

)