Mystery of Chinese Torch Recharging System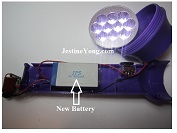 This story started when my friend gave me this torch and asked me why this torch stopped glowing. His torch is cheap but has a very bright and strong white LEDs. I decided to recharge it again so I plug it to wall outlet, after 2 hours still the torch can't be lighted up. Next I opened the torch for troubleshooting purpose.
Inside the torch I found one sealed acid lead battery with a PCB board of charging system and an On/Off switch:
Surprisingly in the PCB I did not find any regulator or any step down transformer to decrease the 220 volt AC to lower voltage to charge the 5 volt battery and it does not have the filter circuit too. If you look at the board there is just 4x 1N4007 diode and one polyester cap that is in series with 220 AC volt. Besides this, it has one red LED that works as indicator and one 1/8 watt 33 ohm resistor to limit the current so that the LED will be protected.  Summarize of this circuit-there was no regulation, no filter and no protection in which I think is not a good design and may post danger to the user.
The most important issue that I want to highlight is the manufacturer of this torch, where the 309 volt dc was sent directly to the battery terminal for charging the battery and this voltage is too much and can explode the battery.

That is why this torch is dangerous for the users and I am sure millions of this kind of torch already been distributed to the world because it is cheap and bright but they do not know that it was dangerous to have one.


Conclusions: The only bad component that I found in this torch was a bad battery. This battery suffered the pressure of 309 volts being pumped into it and no longer can be recharged. After I had replaced the battery, the torch works again. However, I have warned my friend not to use this torch due to dangerously recharging system and possible of battery explosion. I have replaced the battery just to make sure is the battery fault.
Note:
A sealed lead acid battery or gel cell is a lead acid battery that has the sulfuric acid electrolyte coagulated (thickened) so it cannot spill out. They are partially sealed, but have vents in case gases are accidentally released for example by overcharging. They can be used for smaller applications where they are turned upside down. They are more expensive than normal lead acid batteries, but they are also safer. They use different chemicals than dry cells, so they are rechargeable –source from  Wikipedia.org

This article was prepared for you by Mr Beh from Iran.
Please give a support by clicking on the social buttons below. Your feedback on the post is welcome. Please leave it in the comments.
P.S-  If you enjoyed reading this, click here to subscribe to my blog (free subscription). That way, you'll never miss a post. You can also forward this website link to your friends and colleagues-thanks!
Note: You may check out his previous repair articles in the below link:
https://www.jestineyong.com/led-lamp-repaired/
Likes
(

84

)
Dislikes
(

2

)