Netvil DVB-T Receiver no power on repair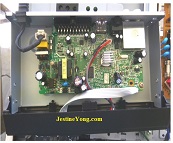 A few months ago the transmission of the analog TV signal has stopped in my country and the new era of the digital (MPEG 4) transmission had already begun.
In order for the old types of analog TV sets to be saved instead of being thrown away, we use these Digital Video Broadcasting Receivers, which reproduce clean analog video and sound signals after processing and demultiplexing the digital one, reproducing thus both of these original signals at their respective "scart" connector terminals located at their back side. Most of these devices are also capable of providing a HDMI output signal as well.
Although these devices are very cheap to buy them and thus perhaps not worth to repair them according to the opinion of many of the readers and apart from the fact that this case I faced really deserved repairing it, you already know that a defective device always triggers me for repairing it… For this one particularly you will see for yourself and understand why, by further reading…
Well, this unit you see below belongs to my close friend Mario, whom I visited recently and he told me that it suddenly stopped working. He could just see the green light behind its power switch flashing and nothing more.

Well, I took the unit at home to see what its problem was. You can have a general view of its internal circuitry below:

When I opened it the first thing I noticed was a slightly bulged electrolytic capacitor, which I replaced immediately. Its place can be better seen below:

It's the one with the biggest diameter, a 1000μF/10V cap. Below you can see the original cap I replaced.

Well, as I was very busy that day, I asked my wife (who is familiar with these receivers as we use three of them at home) to connect it to a set of ours and perform a proper functional test on it. Then I left home. When I came back, my wife seemed to be scared from the experience she had with the task I delegated to her…
"This thing, she told me, in less than one minute of operation made a strong "bang" noise that scared me to death, producing also smoke and terribly bad smell"…
I thought momentarily that everything in its power supply circuit had turned into ashes, although the static tests I did before closing it didn't show me anything else wrong with it.
During these thoughts of my mind, I heard her also saying in addition… "But it kept working normally after the "bang" and that smell. I just closed it and removed it from power  because I could not stand the bad smell of it and of course I didn't want to expose it further in a possibly catastrophic condition by keeping it working"…
What a relief I thought! But now the question of how it had survived after all these symptoms was wide open, making my curiosity about the cause of these symptoms soaring.
I re-opened the unit and it was really very easy to identify what the trouble was. Look at the picture below and you will understand:

They put during manufacturing that terrible glue to support the main filter cap in its place, which is conductive even when it dries out. If you can see in the picture, the part of it which touches the No 1 pin of the I.C is already black and this is what first caused the "bang", starting to arch right afterwards and producing that bad smell!!
All of this petrified glue was standing above the tracks which connect the mains filter capacitor with the rectifier bridge!! The perfect way to kill the power supply circuit!! Given that on one hand this is certain to happen, being only a matter of time, on the other hand it is both a funny solution of supporting the filter cap in such a way and ironical too as it will end up in a complete destruction of the entire PSU section…Nevertheless it is a fact…
Many times in the past I found this kind of glue to be either a direct or indirect cause of many failures. Normally I always remove it from the PCB whenever I see it, but this time I didn't because I was in a hurry!! And although this (hurrying) has always its own costs as a rule, fortunately it worked as an exception in this case…
You can see the tracks after I removed the glue using a sharp cutter.

Right afterwards I reclosed the unit and connected it to a TV set for a new test. There were no more problems with it and I believe Mario will keep enjoying TV-watching by using it, hopefully for a long time to come.

This article was prepared for you by Paris Azis from Athens-Greece. He is 59 years old and has more than 30 years' experience in electronics repairs, both in consumer and industrial electronics. He started as a hobbyist at the age of 12 years and ended his professional carrier as a senior electronics technician.  He has been a specialist in the entire range of consumer electronics repairs (: valve radio and BW TV receivers, transistorized color CRT TV, audio amps, reel and cassette tape recorders, telephone answering and telefax devices, electric irons, MW cooking devices e.t.c) working in his early stages at the official service departments of National-Panasonic first and JVC afterwards, at their premises in Athens.
Then he joined the telecoms industry, working for 20 years as field supporting technician in the sector of DMRs (: Digital Microwave Radio transmission stations), ending his carrier with this subject. Now he is a hobbyist again!
Please give a support by clicking  on the social buttons below. Your feedback on the post is welcome. Please leave it in the comments.
P.S-  If you enjoyed reading this, click here to subscribe to my blog (free subscription). That way, you'll never miss a post. You can also forward this website link to your friends and colleagues-thanks!
Note: You can check out his previous repair article below:
https://www.jestineyong.com/part-2-farfisa-art-4821-door-entry-intercom-repair-about-transformer-calculations/
Likes
(

175

)
Dislikes
(

0

)