Panasonic Hi-Fi Setup No Power Repaired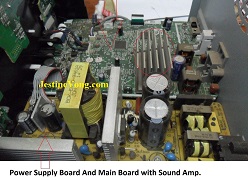 A customer sent to me his Panasonic Hi-Fi set up with no power symptom. As usual, I did not see any problems (visual inspection) in the power supply and mainboard.
In certain cases, you could see darkened fuse, dead lizard, corroded circuit line, burst capacitor, burnt resistors, dark patch on pcb board, loosen connectors and etc.

Next, I powered up the Hi-fi and check the DC output voltages and not even one output line have DC Volt (even with the connector removed). This means the issue is in the power supply section.

Since the power section was the suspect, I checked on the power FET and found it to be leaky.
All other surrounding or corresponding components seems to be good.

If you found one bad component in the primary side, it does not mean the secondary side components are okay. So I proceeded to check on the secondary side schottky diode and to my surprised, one of the diodes in the package was shorted (see photo below).

The part numbr was MBR20200FCT as seen in the below photo.

I installed both components and went through the 60 watt bulb test (by removing the main fuse) and the bulb did not light up fully indicated there was no more shorted components.
I took out the bulb and put back the main fuse and powered it up.

As expected, the Hi-fi came back to life and it was a relieved to me because I can charge the customer.

Conclusion- Visual inspection is very important if you want to do repair work. Spend some times to view on the board first before you turn on your meters to check on the critical points in any board. As a rule of thumb, always connect a light bulb to prevent the components that you have replaced in the power section to blow again.

This article was prepared for you by Suranga Bandara who owns an Electronics repair shop in Anuradapura, Sri Lanka.
Please give a support by clicking on the social buttons below. Your feedback on the post is welcome. Please leave it in the comments.
P.S- If you enjoyed reading the above article, click here to subscribe to my blog (free subscription). That way, you'll never miss a post. You can also forward this website link to your friends and colleagues-thanks!
Note: You may check out his previous post about Haier 50 Inch LED TV With No Power Repaired
Likes
(

69

)
Dislikes
(

0

)