Pentium IV PC Repaired (part 2)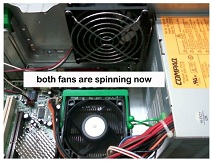 In the previous part the retention hole had been confectioned, so the final result was the shown in the photo below.

As you can see the piece of aluminum was finally obtained,
so that, it was necessary to check if it fitted with the whole set.

The piece of aluminum had to be re-cut in its base due to not short circuit the SMD devices in the Motherboard.

The piece of aluminum was put in the Motherboard and the heat-sink plus fan later, as shown in the images below.

The PC was turned on and look what I saw then.

The Microprocessor fan was not working, wow! another fault now. This time the fan was substituted for another one in good conditions.

This time the PC worked perfectly when it was turned on. A long and tedious repair but finally mission accomplished.


This article was prepared for you by Humberto Rodriguez, one of our 'Master Authors' from Cuba.
Please give a support by clicking  on the social buttons below. Your feedback on the post is welcome. Please leave it in the comments.
P.S- Do you know of any your friends who would benefit from this content that you are reading now? If so, forward this website to your friends or you can invite your friends to subscribe to my newsletter for free in this Link.
Likes
(

18

)
Dislikes
(

0

)