Picture Shaking Problem In CRT TV Fixed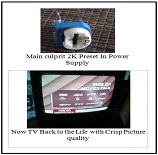 Again I have got a call from my friend whom I have repaired the CRT TV earlier for the color patches symptom on the display screen. This time he said the display shakes vertically and sometimes TV gets intermittent on off.

So again I visit his place and start troubleshooting on his TV. I opened the TV cover and started analyze the problematic area. Most of the time this type of problem is due to dry solder on PCB so I have checked and found some dry solder on Main PCB and as well CRT Base PCB. I have revived some dry solder and put the TV "ON" but the problem is same picture shake vertically . On visualizing the component side I found one capacitor beside EHT was Bulged and the value was 22uF 160V.
So I have relaxed by assuming that I have found the culprit so I replaced the capacitor and turn On the TV but still with the same problem. Still I have doubt for some dry solder or loose connection hence by holding my screwdriver reverse (Metal part in hand and handle on PCB Side) I have tapped on some stages on PCB (while power is still On) to find out the culprit but no success.
Now I decide to test some reference voltages on PCB in order to locate the bad area.  I have started with testing voltage across main filter capacitor on power supply section. I found 300V DC so this area is ok and now I moved directly on Horizontal Output Transistor (HOT) side.  I tested the B+ Voltage on horizontal output transistor collector (middle leg) and I found 90 VDC so this area also OK now what???  Now I have doubt for the BAD capacitors on the circuit but I do not have ESR meter and I do not keep many capacitors with me so I just make a mind to windup the troubleshooting and install with a new KIT.

Just for second opinion "I have contacted one of my GURUS" in the same field as per his experience he guided me to just adjust the B+ Voltage in power section and see what is the effect as per his direction I have again started the trouble shooting and on adjusting the preset I do not get any effect so I removed the preset and check it off board. I found this 2K preset was "OPEN" circuit. It was not giving any reading while testing it with my Multimeter hence I replaced it with a new preset and the TV was back to life again.

This article was prepared for you by Yogesh Panchal who works as a Computer Hardware Engineer in Mumbai India.
Please give a support by clicking  on the social buttons below. Your feedback on the post is welcome. Please leave it in the comments.
P.S- Do you know of any your friends who would benefit from this content that you are reading now? If so, forward this website to your friends or you can invite your friends to subscribe to my newsletter for free in this Link.
Likes
(

260

)
Dislikes
(

4

)